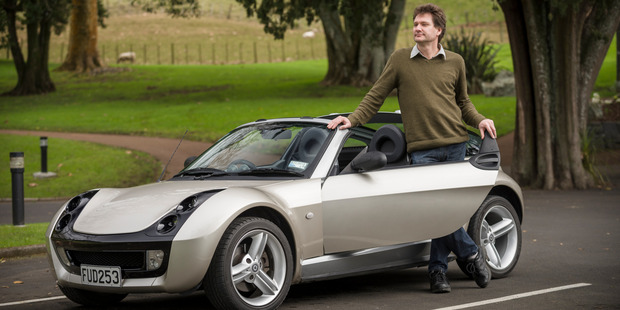 Senior developer at Lifetime Health Diary Mike van Bokhoven is also magazine editor for the Mini Car Club of Auckland.
You drive a silver 2003 Smart Roadster Coupe?
Yes, it's a 700cc turbo. I bought it sight-unseen on TradeMe, so I didn't see the real thing until it arrived outside my house on the back of a truck. I like buying cars like that - adds adventure to the process. I did get a mechanic to check the car over before I paid up, though.
They handle very well (17-inch wheels on a car that weighs as much as a Mini will be good for road holding). They definitely have the go-kart feel that small, well-tuned cars have, and it's an engaging drive. It's extremely cheap to run, somewhere around 4L/100km. Plus all the Smart advantages, such as parking in tiny spaces. I chose it mainly because I like the look.
You're in the Mini Car Club. Why?
Clubs for older cars, like the Mini club, help you keep your car on the road and in good condition.
There are people who can give good advice on maintenance and repair, and sources for parts. This year, the club will be holding the Mini Nationals, a gathering of Mini enthusiasts from all over the country.
First car?
My parents' Mini station wagon. It was a lot of fun to drive, if a bit tired. After that I went through a succession of Subarus, one of which I still have for those times when I need something with a bit more room.
Dream car ...
A mid-1960s Mini Cooper S, perhaps? Or a Ford GT40, for something a bit larger. I think I'd end up upside down in a ditch, though. In both cases, it's just for the performance.
Favourite car colour?
Red or orange.
Who taught you to drive?
My mother, in that Mini station wagon, mostly in an empty hospital car park. I would have been 14, and clueless about cars. I think learning to drive in something more tricky than a modern automatic has stood me in good stead; I can cope with driving pretty much anything. Some time ago I did some driving instruction as part of the Prodrive programme to teach secondary school students safe driving techniques. I feel strongly that driving technique should be part of secondary education, for those who want to learn to drive at least. I see a lot of awful driving, and the statistics for young drivers are shocking.
Manual or automatic?
I prefer a manual. Modern automatics are clever, but they're not psychic - only I know in advance when I'll need more power, or higher revs. I do appreciate a traditional torque-converter automatic when I'm stuck in traffic.
Most memorable road trip?
My father and I do a major road trip once a year. One of the best events must have been the last Targa, in which my brother came along as our support car driver and did a superb job. This year, we'll be doing the Italian Job event in Italy.
How often do you clean your car?
I drive on unsealed roads several times a week, so I wash the cars weekly.
What do you listen to?
Either radio or MP3s. CDs clutter the car up and are a pain to change.
Great day trip out of Auckland?
Taupo/Rotorua via Cambridge, especially around the back roads near Hamilton.
Would you rather drive in Auckland or take public transport?
Public transport is dire ... buses are unbelievably slow and unpredictable, and trains on my local line only run once every half hour at best.
Who else is allowed to drive your car?
Most of my friends have taken the Smart for a drive by now.