Classic bike deserves its cult following, writes Mathieu Day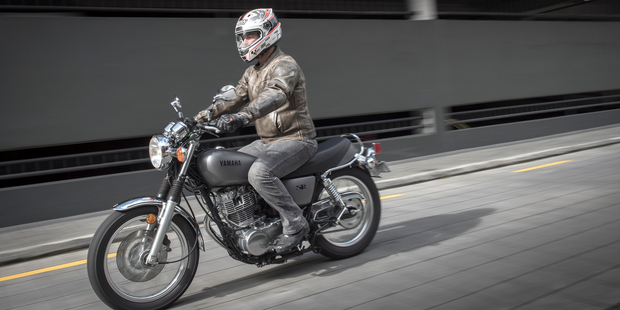 A kick starter ... when was the last time you HAD to use a kick starter?
For me the answer is never. Sure I've ridden kick-started bikes, but the last time I was still under 10 and my cousin started it for me before I crashed it into an electric fence.
With the 2014 Yamaha SR400 you have no option; there is only a kick starter to get this 399cc thumper going. Don't worry though; it's a piece of cake and incredibly rewarding to kick the SR400 into life.

Follow Mathieu on Twitter and Instagram extra content
Yamaha NZ has brought back the classic SR400 with modern touches such as electronic fuel injection, but you won't be thumbing an electric starter to get it running. No sir.
Yamaha is putting the classic feel back into the segment by giving it a kick starter only.
Better start warming up that right leg then.
The soulful little thumper has been around since 1978 in one form or another. Displacing 399cc from its 17.1kW air-cooled single cylinder this latest version, apart from the addition of a modern fuel injection system, is technically identical to the original.
Punching out maximum torque of 27.4Nm from 3000rpm, the SR400 is more than capable on the open road, but I found it was more at home below the open road limit, with the narrow frame making the SR400 ideal for squeezing through stationary traffic, bursting away from lights, and negotiating low-speed obstacles.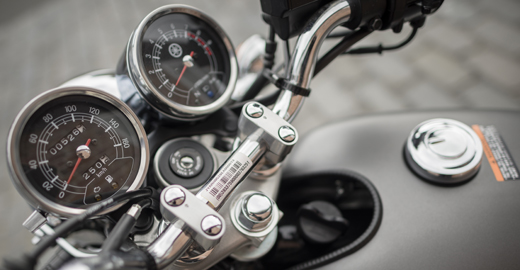 The SR400 offers refreshingly honest take on retro instrumentation - you only get the essentials
Humming along in fourth gear around town the engine was smooth, a big surprise for a single-cylinder engine that has been around for 35 years.
The gearbox shifts nicely, though didn't appreciate my attempts to quickly shift through gears. Trying resulted either in the box simply saying "no thanks, try again", or finding neutral. Forcing myself to remember that speed isn't what the SR400 is all about and shifting with planned and purposeful shifts on the other hand was rewarding. It quickly becomes a real joy as you practise achieving the perfect shift.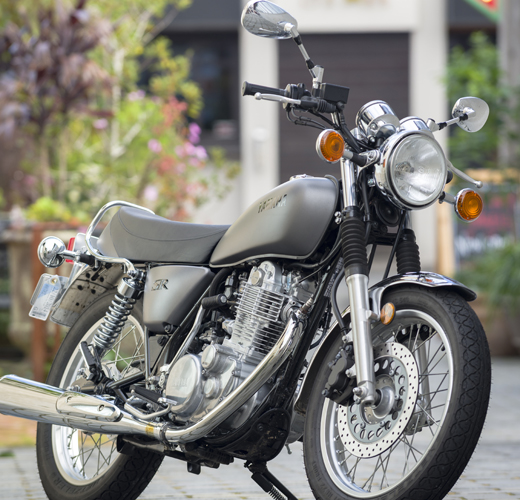 The 2014 Yamaha SR400's classic looks were an attention grabber
The SR400 sports great classic looks thanks to its chrome 18-inch spoked wheels and exhaust, low tank and matt-grey colour scheme - the only option currently. I can't help but think how lucky the LAMS market is. I remember wishing there was something learner legal like the SR400 to fill the retro niche I desperately wanted to fill in my driveway when I was starting out on two wheels.
During my time with it, its looks certainly attracted more than its fair share of onlookers asking about the bike compared to my usual daily ride.
In my week of riding the SR as my daily I was approached no fewer than five times by people wanting a closer look. This wasn't just the older generation reminiscing about when the SR400 came out in 1978, the majority were hipsters (Read: Young trend setters; high in fashion, often bearded) taking the time to get a close-up look at the bike.
The comfortable ergonomics and suspension combine to make the SR400 a stable and forgiving ride, especially around the potholed and uneven streets found around the Driven office in Auckland's CBD. The front forks have a plush 150mm of travel while the twin rear shocks allow 105mm and are also preload adjustable for when you have the need to carry a pillion.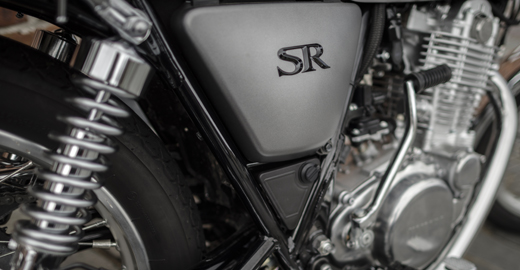 Rear suspension is adjustable for preload
Braking is handled by a single 298mm disc clamped by a two-piston caliper up front, which is enough to send that soft suspension into a dive while hauling the relatively lightweight SR400 up in a hurry. At the rear, braking is handled by a classic drum which, despite what you may think about drum brakes, is surprisingly effective at its job.
Yamaha's engineers have worked wonders in maintaining the bike's classic character while still making it easy to live with. Kick starting was a far more rewarding procedure than I imagined - the act of pulling out the kick starter, priming it into position while pulling in the decompressor lever. More often than not the bike whirrs into life on the first kick. There is a strange pleasure to it.
On the road I learned quickly that the kill switch, with its two off and one on position, is to be avoided after I accidentally switched off the SR400 in peak-hour motorway traffic. Kick starting the bike on the shoulder is something I don't want to repeat.
Yamaha offers a range of accessories for buyers to customise the SR, with alloy wheels, exhausts and luggage available through Yamaha's dealer network and website, but the real fun in customising the SR400 is when you start picking bits from the rest of the Yamaha parts bin and finding all sorts of amazing combinations - as Yamaha NZ has been doing with its two project bikes squirrelled away in a corner of Yamaha HQ.
The first bike, for instance, has knobbly tyres, custom green painted tank and chopped mudguards to give it the look of a classic TR350.
Bike number two, however, has been overhauled into a cafe racer - with the clip-on bars being the only stand-out part not coming from the extended Yamaha parts catalogue.
You can view the buildup of the bikes on Yamaha NZ's YouTube (http://bit.ly/XwoGUi0).
Both bikes will be on display at Big Boys Toys later this year.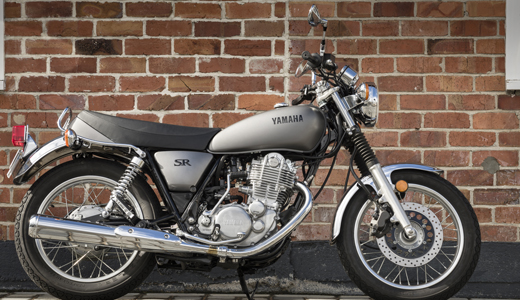 With a starting price of $9599, the SR400 is at the higher price end of the LAMS scale but is definitely not another disposable learner bike. There is a reason SR400 has a cult following. It charms its way into your heart and stays there.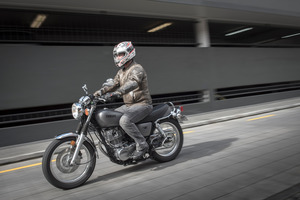 Fast facts
Engine: 399cc air-cooled single cylinder
Power: 17.1kW / 27.4 Nm
Fuel capacity: 12 litre
Seat height: 785mm
Price: $9599