Honda offerings range from cute and lovable to plain intimidating, says Jacqui Madelin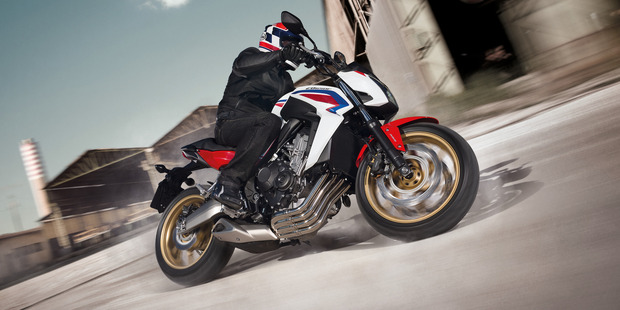 Honda launched a barrage of new models to the press amid wind squalls and rain showers, their arrival focused on a dealer tour into September, ready for sales come summer.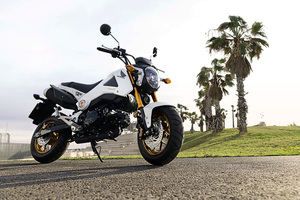 And there's pretty much something for everyone, from the diminutive GROM125 that's aimed at stylish young urban types on up to 1.8-litre leviathans.
The GROM didn't head out in the convoy - it's not aimed at the open roads the press route covered. But otherwise Honda had laid on a bit of a two-wheeled smorgasbord to celebrate its ongoing success.
Brand manager Damien Smyth says, "Winning every MotoGP this year, it's like the All Blacks winning each time. You still want to celebrate it."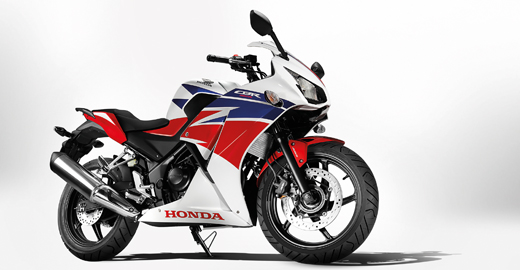 Honda CBR300R
First up, the only CBR300 in the country resembles its thoroughbred CBR siblings rather more than its 250cc predecessor did. There's greater capacity, and a judder spring on the clutch to help novices, especially, pull away smoothly. Otherwise, "Everything else was beefed up to handle about a 3kW and 3Nm increase in power." Smyth sees there's a place for this smaller bike beneath the learner-approved 500s, as "for smaller riders this is less intimidating." Cost-effective too, as it lands at the same $7495 price as the outgoing 250.
Next up, the CB650F - an all-new machine pitched at the likes of Triumph's pricier Street Triple and Suzuki's GSR750. The liquid-cooled 649cc inline four delivers 64kW at 11,000rpm and 63Nm, for a retail of $13,995.
Its $14,495 CBR650F sibling gets the same engine, wheels and equipment, but with a fairing, a slightly harder spring rate, a marginally reshaped fuel tank and clip-on bars.
Next, a long-awaited replacement for the VFR800 which uses the same much-loved V4 engine format, further developed to deliver 80kW and 75Nm from a bike that's 10kg lighter, thanks largely to a single pipe replacing the previous dual under-seat design and a lighter subframe. The VFR is 40mm narrower at the midriff, you can drop the seat by 20mm, and it comes with ABS, traction control, heated grips and self-cancelling indicators, for $20,995.
The NC750S and X get a stroked, 40kW/68Nm parallel twin-cylinder engine with a balancer shaft; Smyth says it's effectively half a Honda Jazz car engine, the now broader ratios ensuring you don't have to change gear as often. Otherwise it still gets the compartment in the tank, and it retails at $12,495 for the S, and $12,995 for the X. Honda expects the X to be the best-selling here, as there are few adventure bikes at this price, and it'll suit the loose-surface roads we like.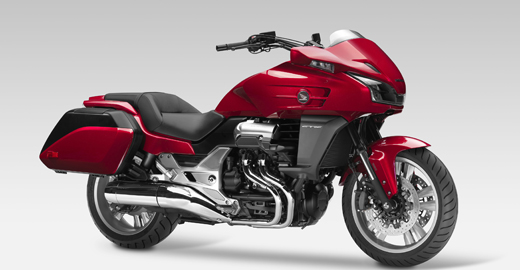 Honda CTX1300DX
But it was the CTX1300 we were most curious about, for it resembles the Bagger, the Goldwing derivative that proved so engaging when it launched. But this is not a Wing. It uses a V4 engine based on the ST1300 and delivering 62kW and 106Nm, slotted into a steel cruiser frame with twin shocks and a 200-section rear tyre. Spec is modern - Bluetooth, ABS, traction control and panniers are all included - at $26,995 for Bagger style at a lighter price.
Or you could try the Valkyrie F6C, using that 1800cc flat six Goldwing engine in a long, low, muscle-cruiser format, priced at $28,995.
As for the GROM stripling which stayed back at base while its stablemates went out to play, it's sold as an alternative to an urban scooter. Using the 7kW/11Nm single-cylinder motor from the Wave big-wheel scooter fitted with a four-speed transmission and a clutch, it's a good-looker that tips the scales at around 150kg, and sells for a tempting $4995: you can just see this thing popping off kerbs in Queen Street, or lightly modified and clustered round student hangouts.
Of these, four drew most comment from the day's ride. The F6C because it delivers smooth power across a wide rev range, it handled our roads well - and some of the route was very bendy indeed - and it delivers fabulous finish and comfort. But it's pricey.
In the real world the VFR all-rounder may be no faster but it's more refined, and the switch from two valves to four as you transition from cruise to hard-out riding is smoother, albeit still audible - a bonus if the tacho needle sweeps through 7000rpm while you're cranked over.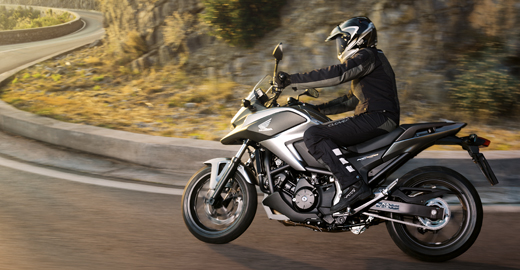 Honda NC750X
The NC750X is the Toyota Corolla of the bunch as it does everything reasonably well, it's frugal, and though it's not especially characterful it never really drops the ball.
But perhaps best of all the CBR300, which stuck with all the others even with the heaviest and tallest riders aboard, was described as "a full-size motorcycle", "a heap of fun" and "capable of taking sales off competitors."