Hamilton rider on motocross fast track, writes Andy McGechan.
Since the international retirement of Motueka's Josh Coppins and Taupo's Ben Townley, the question has often been asked: where will New Zealand's next motocross Grand Prix star come from?
This could be the answer: he's 15, he's fast and he's a multi-time Kiwi champion ... now Waikato's Josiah Natzke can write "Grand Prix podium" on his list of achievements.
The Hamilton teenager became New Zealand's youngest senior national 125cc champion at the start of this year and the writing was on the wall that the CMR Red Bull KTM team rider was on his way up in the world.
What nobody could have imagined was just how high he was going to rise - and how quickly.
He made his GP motocross debut in the Czech Republic a week ago, sensationally earning a podium result at this sixth round of seven in the European 125cc Motocross Championships (EMX125) thanks to his fourth and third placings on the steep and treacherous circuit at Loket.
The GP rookie surprised everyone, particularly since it was his first visit to the Loket circuit and that he'd qualified only 20th overall during the preliminary sessions at the event. "My qualification was terrible," he says. "I was slow and, in all honesty, I sucked. There was nothing wrong with the bike. It was just me not being fast enough.
"I had to go to LCQ (last-chance qualifier) and I won that. I had 31st gate pick for moto one, which wasn't ideal, but I had to make do with what I had.
"I got a ripper of a jump and came from the outside, gate 31, and got sixth around the first turn. I was quite chuffed with that.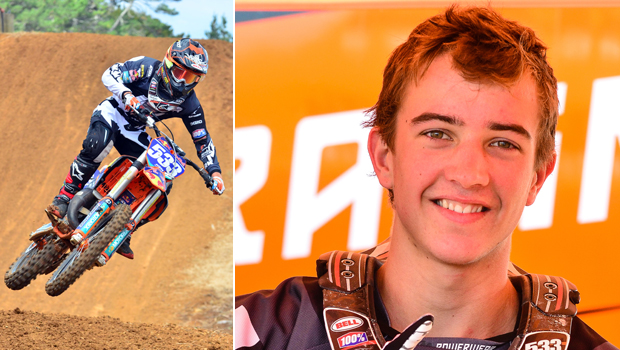 Hamilton rider Josiah Natzke.
"I had some battles and chased a guy down, who then fell in front of me. Almost bailed off the bike, but got out of it. Then I was chasing down third place but couldn't make it happen and he pulled a gap on me.
"I ended up fourth in the race so I was on top of the world about that."
His second outing was even better, Natzke again pulling off an incredible start and settling into second spot, before taking the lead at the end of lap two and holding his pursuers at bay for five laps before being kicked back to second position by eventual EMX125 class winner Brian Hsu, of Germany.
Natzke dipped another position when Sweden's Alvin Ostlund also found a way past the Kiwi hero.
Hsu finished 1-1 to win the EMX125 round overall, while Ostlund twice finished runner-up to take the No2 step on the podium, while Natzke's 4-3 score-card gave him the edge over Italy's Joakin Furbetta, who managed 6-4 results.
It is interesting to note that Loket was the same treacherous circuit that had cost fellow Kiwi Josh Coppins so dearly back in 2007. Coppins had been running away with the MX1 world championships that season when he crashed and injured his shoulder, an injury that killed his world championship chances.
Natzke's first GP appearance at Loket was part of his build-up to the World Junior Motocross Championships starting in Bastogne, Belgium, this weekend.
He will be joined by fellow Kiwi Cohen Chase (BikesportNZ.com Yamaha YZ125), the Taupo rider who won the New Zealand Junior 14-16 years' 250cc Championships in April this year.
"The aim is to make a really good impression in Europe and, hopefully, it will lead to greater things, potentially a position on a Grand Prix team in the very near future, maybe next year or the year after," Natzke says. "I don't yet have any plans for racing in Europe next year, but if something popped up and the offer was there, why wouldn't I take it?"
While it would be foolish to compare the Grand Prix classes with the European Championship classes - it's a huge step up from EMX125 to MX2 - there is probably little doubt that Natzke, and possibly Chase, too, could be the next GP stars to emerge from New Zealand.