New A3 soft-top is faster, longer and lighter than the previous model and you can hold conversation at speed even with the roof down due to more-hunkered down seating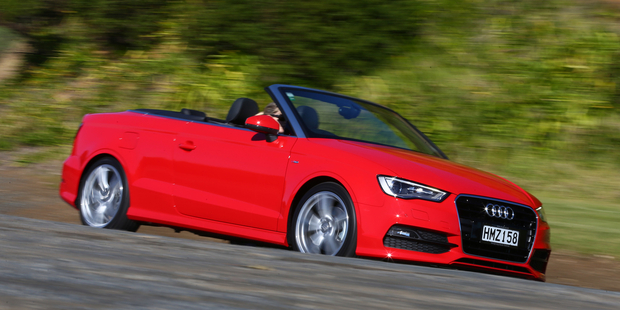 Midwinter may seem a strange time to launch a cabriolet but it makes perfect sense to Audi NZ boss Dean Sheed.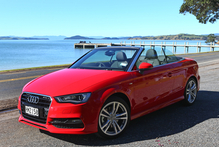 The German brand has just added the all-new A3 cabriolet to its line-up with a recent media launch from Auckland to Taupo and return. Luckily for the firm, the weather over the two days was crisp and sunny - but whatever the temperature Sheed is confident of sales.
Questioned over the timing of the launch Sheed said he liked to "launch a product as soon as I can. I've launched cabrios in winter before," said the former Volkswagen NZ general manager, "and it's done bloody well."
Not only did it stimulate sales in August, it also it made sense for buyers to purchase now.
"Customers can put in their order, with any requirements (from the German factory) and the cabriolet will arrive in time for spring, summer.
"You don't want to be launching a convertible in late summer because by the time customers come into the dealership and then put in their orders, it will be heading into winter."
Priced from $69,900, the A3 cabriolet comes with a 1.8-litre turbo petrol engine providing 132kW of power (250Nm of torque) paired with Audi's S Tronic seven-speed transmission.
The third-generation cabrio is based on the company's MQB platform architecture so is more aligned to the A3 sedan, whereas the previous generation A3 soft-top shared the Sportsback platform.
At 4421mm in length the four-seater is 183mm longer than the last model.
The length also equates to more boot space - a factor that many cabriolets get flak over. But the A3 has gained 60 litres over the previous generation, providing 320l (over the A3 Sportback's 360l) and if the rear seats are down there is 680l.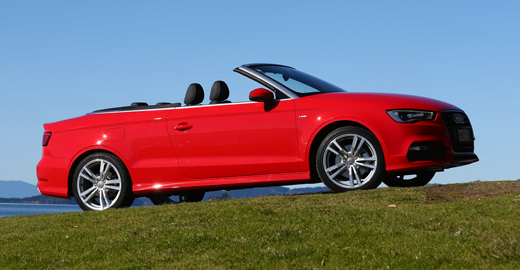 The new cabrio also loses 50kg over the previous model, improving its rigidity and road handling. That showed during the drive along the back roads from Huntly to Taupo, with the cabrio hugging the twisting country roads and holding ground over rough bitumen.
The new soft-top has ultra-high strength steel in the A-pillar and focuses strength in the B-pillar for any side-on impact.
The four-seater also has rollover protection bars for the rear seats that could be deployed within 15 milliseconds if the car detects a potential crash.
The cabrio has a fully automatic soft-top roof with glass rear window and thicker inner acoustic foam in the roof padding.
On the road at speed, there is less road noise than you'd expect, and with the roof off you could easily hold conversations with your front passenger due to the more hunkered-down seating position.
The roof folds off and on in 18 seconds and up to 50km/h - ideal with 'four seasons in one day' Auckland.
Inside the car wins points for its clean design lines and a slender seven-inch monitor that slides into the dash for a clean appearance.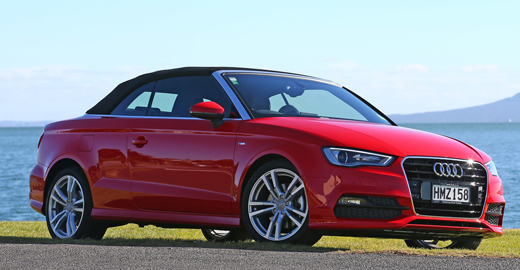 The two rear seats are suited more for children and short adults for long drives - though you'd have to add $1000 for a windshield between the two rear seats to help prevent your passengers getting windswept.
Add another $1200 and you get an air scarf for the front passengers that blows warm air on to your neck - and I'd be ticking that box if I bought an A3 cabrio - but heated and cooled leather seats are not an option for this model, which is disappointing.
I love driving soft-tops with the roof off in winter: turn on the heated seats and air scarf, aim the air vents at your face and feet, then dial the heat to maximum.
And it seems as if other Kiwis are fans of soft-tops in winter as Sheed expects to sell 50 A3 cabrios this year.
Kiwis are also big fans of packages when it comes to their luxury cars, so Audi NZ has added a $5000 S line choice for the A3. For that the car is upgraded from 17in alloys to 18in five twin-spoke wheels, xenon lights, brushed aluminium inlays in the dash, seats in cloth-and-leather combo and S Line badges. Add $2700 to your bill and you get S line leather seats.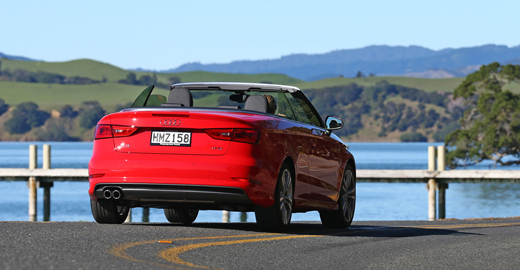 Sheed says 70 per cent of Audi NZ's sales are S Line models with packages helping when it comes to resale value.
The Audi NZ was also recognised recently at the company's HQ in Ingolstadt, Germany for its sales. Latest figures showed its S and RS vehicles made up 24 per cent of the purchasing mix - Audi's highest figure from across the globe thanks in part to the Kiwi love affair with the Quattro four-wheel-drive system.
To help with those figures, Audi NZ also launched the S version of the A3 sedan early this year. Priced at $86,000 it is powered by the 2-litre, four-cylinder engine producing 380 Nm/221kW and paired with the six-speed S tronic transmission.
It also has the 18in five twin-spoke alloys plus Nappa leather seats and quad exhaust pipes.
Next month Sheed will launch the anticipated S1 five-door hatch. That will be a six-speed manual only and paired with a 2-litre TFSI engine that produces 170Kw of power, hitting 0-100km in 5.8sec with a top speed of 250km/h.
The price has yet to be confirmed but is expected to be around $60,000 with Sheed saying he'll "sell all we can get".
By the year's end Sheed will add the S3 cabrio to his extensive line-up and he reckons it will be the only four-wheel-drive "hot cabriolet in that size" for sale in New Zealand and will be on sale for $93,900.