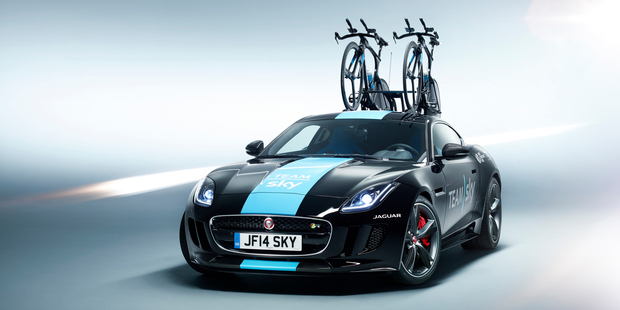 Jaguar have been doing some strange things lately, and they seem to involve cyclists.
First the English marque sent a man to ride a bicycle under the English Channel, and then it decided the F-Type wasn't practical enough and strapped a couple of bikes to the roof.
As an official supplier to the Tour de France's Team Sky since its inception in 2010, Jaguar has already supplied the pushbikers with a fleet of cars, including all-new high performance Jaguar XF Sportbrakes.
• Read more Jaguar F-Type Project 7 gets limited production run
It has designed, engineered and built a bespoke F-Type Coupe high-performance support vehicle for the team to use in stage 20 of the tour this weekend, as the peloton heads towards the traditional wind-down on the Champs Elysees in Paris.
Development of the coupe by Jaguar Land Rover Special Operations follows the successful launch of the Jaguar F-Type R Coupe this year. You can read our test of that car at: http://ow.ly/zw9hG.
The unique concept vehicle is based on that car and will be supplied with the same gut-wrenchingly good 404kW/680Nm 5-litre V8 supercharged engine.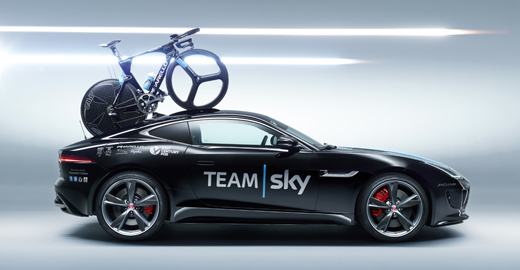 No word on how the addition of the bikes has altered the already cramped boot of the F-Type.
Features include a new rack which carries two of the team's bikes.
The exterior is finished in Team Sky's livery with other design features inside the car.
A separate electric supply in the boot provides power to the radios, amplifiers, microphones, horns and televisions which support communications between the team's race director and his riders.
Jaguar aren't planning on production of this F-Type coupe. You really can't blame them, although storing stuff on the F-Type's roof isn't such a bad idea.