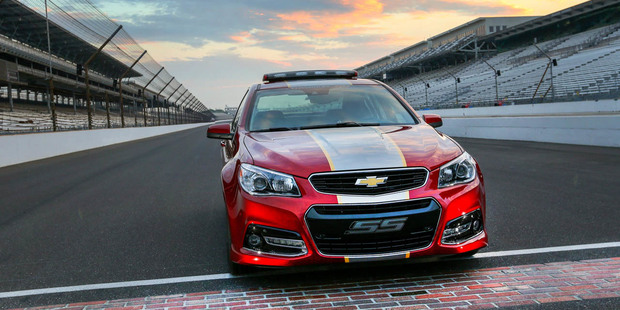 A big Aussie will be the centre of attention at the most American of motorsports when a Chevrolet SS leads the pack as the pace car for the Nascar Sprint Cup race this weekend at Indianapolis.
The SS (or Holden Commodore as we know it in this part of the world) is the latest in an unbroken 20-year run of Chevy pace cars at Indy (since the track started running Nascar) and will be driven by actor Chris Pratt (Parks and Recreation, The Lego Movie, Moneyball and the forthcoming Guardians of the Galaxy movie).
But, rather than the fact that an Aussie car is the centrepiece of a celebration of Americana, it is the name of the race that grabs the Good Oil's attention. In a magnificent example of naming rights gone spectacularly wrong, it is called ... wait for it ... the "Crown Royal Presents the John Wayne Walding 400 at the Brickyard Powered by BigMachinesRecords.com".
Pay attention, V8 Supercars - you can clearly squeeze several more sponsors into race names. You're just not trying.
We are the world
•We are all for perseverance, but some people just don't take a hint - a 28-year-old unnamed woman in the UK has taken and failed the written portion of the driver's test a colossal 110 times! At £31 ($60) a pop, that is quite a lot to invest in failure. She probably shouldn't ever be allowed behind the wheel of a real car ...
•A 12-year-old boy in Florida, USA, was arrested for stealing a school bus after he took the big yellow beast for a joyride. What makes it more unusual than your average pre-teen bus joyride was that he had just appeared in court 24 hours earlier for exactly the same thing! Apparently he really like buses. According to the local police chief, "He's not unruly or resists arrest. He's just into stealing vehicles."
Racing Rolls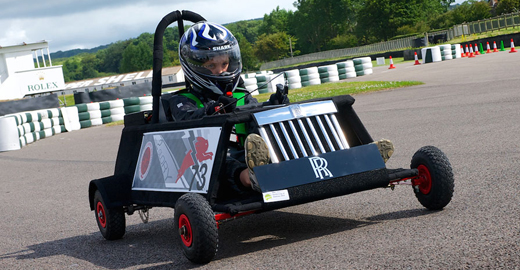 If there is one thing this world needs, said no one ever, it is a Rolls-Royce racing team that competes in an all-electric car.
Well, there actually does happen to be such a thing and it is the cutest damn thing ever, too.
That is because the team comprises 10 children from the March CE primary school in Britain. So ... why is it a Rolls-Royce factory-sponsored team? Because the March school is just around the corner from Rolls' HQ in Goodwood.
The school participated in the Greenpower IET Formula Goblin competition where children aged from 9 to 11 build and race electric carts and - get this - race them at the historic Goodwood circuit.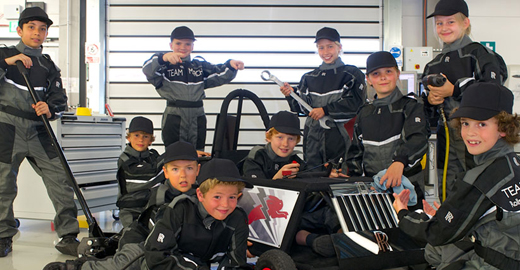 Rolls helped out with sponsorship, but also by outfitting the team in custom racing suits made in the company's leatherwork department. The team was also given a tour of the factory and Rolls-Royce engineers helped consult on the construction of the car.
Lucky children, being so close to the RR factory. Imagine if they had been across the road from Lotus - they probably would have been handed some of Kimi Raikkonen's overalls, a tube of glue and be told that "it seems to hold 'em together until they leave the showroom ... "
Fit for a King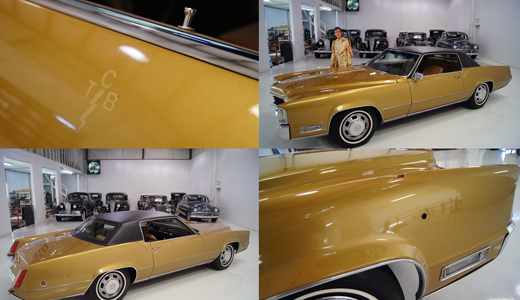 Well, The King, to be accurate. This Topaz Gold Firemist 1968 Cadillac Eldorado coupe up for sale on eBay was not only bought new by Elvis Presley in December 1967, he also used it as his daily drive for 13 months before giving it to his wife Priscilla's stepfather after the birth of the couple's daughter, Lisa Marie.
But that is not the most brilliant thing about this Caddy. Not by a long shot.
What is it, you may rightly ask, that could make a huge gold Cadillac coupe once owned and regularly driven by Elvis even more awesome?
How about the fact that the car once refused to start, enraging the King to the point that he pulled out his gun and shot it? Or maybe that the bullet hole is still in the fender today? That does it for us ...
Okay, so he was known for shooting things, so it isn't that rare or unusual - in fact the most famous car Elvis shot was probably his 1971 DeTomaso Pantera - but, still, the idea of cruising around in a huge gold Caddy with extra front ventilation courtesy of the King is a pretty good one.
Except it will never happen for The Good Oil - the "Buy It Now" price is US$229,900 ($265,090). Still, only 151 cars were made in this car's particular colour, making it rare enough as it is, let alone one with a cap popped in it by Elvis.
After Elvis gave it to his father-in-law it was bought by an Australian man who used it as a promotional car before selling it into a collection of Elvis memorabilia. The car resided at various displays and museums around Australia until it returned to the US in 1999, where it has remained.
The Caddy comes with a copy of the original Tennessee registration in the name of Elvis Presley and, even more awesomely, what is described as "a talking animatronic Elvis who tells the story of this awesome car".
How can anyone resist that?
On-board vacuum cleaner just the start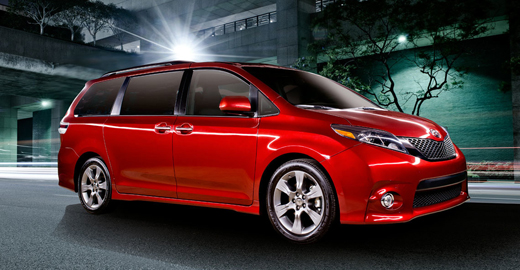 When the latest generation of the US-market Honda Odyssey came out, it featured something that all parents would no doubt appreciate - an on-board vacuum cleaner for when the rug rats inevitably make a mess in it.
Now Toyota has gone one step further with the release of the latest Sienna people mover - a feature that lets you scream at them before they make the mess in the first place. Or for actually making the mess ...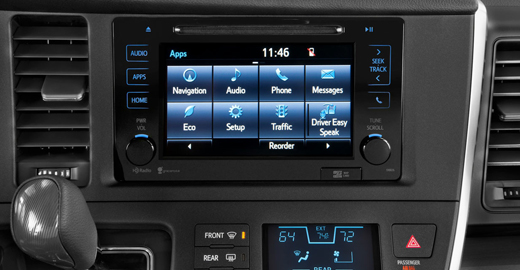 Yes, that is right, the Sienna comes with an on-board PA system featuring a built-in microphone that allows the driver to amplify their voice through the rear speakers. Called "Driver Easy Speak", it is ostensibly to allow easy communication between the driver and rear-seat passengers, but we all know it will be used to yell even more effectively at little Johnny when he pushes his icecream into little Brittany's face.
Which leaves us with one question - exactly how damn big is this thing?
Number Crunching
3630 CARS
The number sold by Rolls-Royce in 2013.
45 YEARS
The time it took between Rolls-Royce building its first chassis/powertrain and building its first complete car.
1 CAR
The only other electric car to wear the RR badge was the 102EX concept.
6 CARS
Out of every 10 Rolls-Royces made are said to be still running.