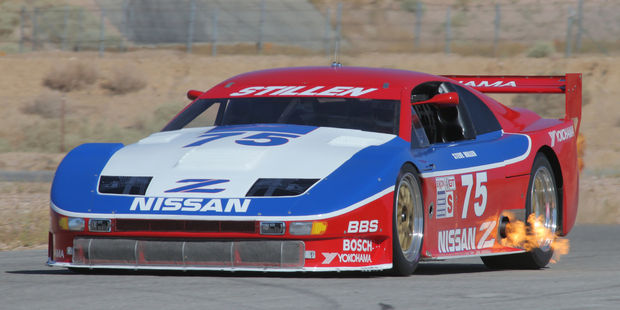 Former New Zealand Le Mans 24 Hour winner Steve Millen is rolling out his category-winning Nissan 300ZX 20 years after its victory in the paramount endurance race.
Millen is commemorating the 20th anniversary of his class win in the No75 International Motor Sport Association (IMSA) GTS Championship at the Rolex Monterey Motorsports Reunion.
The red, white and blue 610kW Clayton Cunningham Racing Z in the hands of Millen in the early 1990s was almost unbeatable. In the stellar year of 1994, the Kiwi won his class in the Le Mans 24 Hours (fifth outright), finished first in the 12 Hours of Sebring, won the 24 Hours of Daytona and cleaned up in the 1994 IMSA GTS Drivers' and Manufacturers' Championship.
To commemorate that championship season, Millen and Nissan are bringing the 300ZX (chassis No7), as well as some of the original crew members, out of retirement to compete at the 2014 Rolex Monterey Motorsports Reunion at Mazda Raceway Laguna Seca Raceway in California on August 14 to 17. "The past 20 years have flown by like they were 24 hours, so getting back behind the wheel of the No75 with the support of many of the original team members will be like stepping into a time machine," Millen told Driven from his United States home.
"The car is one I had an incredible amount of success in, especially that year. It's funny, we never intended to go to Le Mans that year, but after winning Sebring and Daytona we thought we'd try to do something no one had before -- win all three in one year. Nissan found the budget to get the car to France so we went. It was one of the best races I've had. I really enjoyed racing there, especially at night. The car just went better with the cooler air and track temperatures. It was also cooler in the cockpit, which helped a lot.
"It's been great to be able to get the car back into action and I actually brought my old crew chief back from Hawaii, Mark Evans, who also just happens to be a Kiwi."
Millen owns the car and he and Nissan decided it would be a good plan to get it back into working order and return to the race track to celebrate its glory days. The car was prepared by Clayton Cunningham Racing (CCR) and featured a chromoly steel tube structure, steel and aluminum body, a 2960cc twin-turbo VG30DETT V6 engine and a 5-speed Nissan transmission with Hewland gears.
It is one of just 550 vehicles invited to compete at annual Classic Car Week. The race cars are selected based on the vehicle's authenticity, race provenance and period correctness -- of which there is no doubt surrounding Millen's Nissan.
"We've actually just put the rebuilt car through its paces, pushing it pretty hard last Thursday at Willow Springs raceway. We went through the whole car and it went really good.
"People might forget that this car was so dominant in 1994 that IMSA banned its twin-turbo V6 engine. I think we've got a great chance to bring it into the victory lane one more time against some other amazing race cars at Laguna Seca. I can't wait."
Millen has the most victories in IMSA GTS history with 20, and series record 23 pole positions. He retired from competition in 1996 following a big shunt in 1995 at Road Atlanta. He has remained connected with Nissan through his STILLEN aftermarket performance parts company.