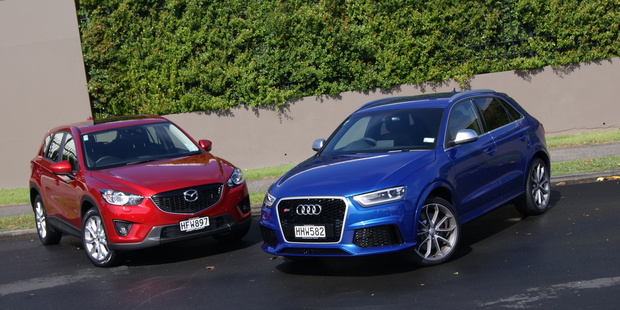 Our regular half-price hero stories identify a really special new vehicle with particular character traits, then try to find something that gives you a similar experience for half the money.
We're not suggesting that the less-expensive vehicle is better, although we'll happily tell you if it is. Rather, we're just trying to find a half-price car that can deliver a similar experience to the upmarket one in a few crucial areas.
Have we finally lost the plot, you might ask: a mainstream mid-sized crossover versus a genuine product of Audi's legendary RS division.
Perhaps we have. But please bear with us. Truth be told, the catalyst for this story was a number: 420Nm, the torque output of both the Mazda's 2.2-litre turbo-diesel engine and the Audi's 2.5-litre petrol-turbo powerplant.
A small thing, but enough to set us thinking that perhaps these two might be an interesting fit.
The Audi RSQ3 is, of course, a pretty special machine. It's the first-ever crossover model from Audi's RS werks: a whole new direction from the people who bring us road-racers like the RS4 and RS7. The RSQ3's engine was previously seen in the TT RS and RS3, so it's the real thing: its five-cylinder layout pays homage to the original 1980s Audi Quattro.
The CX-5 is a determinedly populist vehicle, yet it's pretty high-tech all the same: it was the first model to be designed and built around Mazda's new SkyActiv powertrain and chassis principles. So it was new from the ground up when launched in 2012, providing the building blocks for the Mazda6 and Mazda3 models that followed.
The Audi RSQ3 costs $104,900. The flagship Mazda CX-5 Limited diesel featured here is $56,495, so it's very close to half price.
Here's the thing: in creating the RSQ3, quattro GmbH (the Audi subsidiary that creates RS models) has not simply turned the Q3 into a rock-hard track-day car. Keenly aware that the base car is an urban crossover vehicle, it's tempered the exotic engineering with an everyday attitude. The RSQ3 is in fact much softer than you might expect of an RS model: it's easy to drive slowly, it's quite refined and it rides really well.
The CX-5 is very obviously an everyday car, but Mazda has always had a sporty bent and this model is no exception.

Mazda CX-5
It does everything you'd expect of a family model in terms of ease-of-use and practicality, but there's also a lot of verve in the powertrain and chassis.
So, a performance crossover that's surprisingly compliant and a mainstream model that's unexpectedly sporty: the RSQ3 and CX-5 do reach out to the same common ground and it's entirely possible that those without $100k-plus to spend might find the Mazda a worthy choice.
That's all theoretical, of course. When it comes to cold, hard numbers the Audi shows its true colours. The 228kW powerplant is quite lazy at low revs and the growl of its five cylinders subtle, but with the help of a dual-clutch seven-speed automated gearbox it still rockets to 100km/h in 5.2 seconds. That's properly fast.
The Mazda feels eager, but of course a 129kW diesel family car cannot hope to compete with the straight-line performance of a thoroughbred. It reaches 100km/h in 8.0 seconds. That's still brisk performance for a family wagon and it is the fastest CX-5 you can buy. More importantly, there's an eagerness to the powertrain's performance that is quite engaging. Both the diesel engine and six-speed automatic gearbox feel really crisp.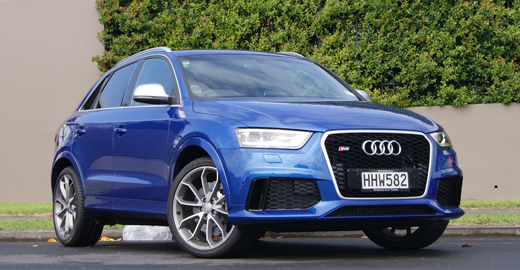 Audi RSQ3
In terms of handling, the two are closer than you might expect. The Audi has Drive Select, which allows you to tailor the powertrain and steering between comfort and sportiness, but ultimately the concessions made to ride comfort in the suspension mean that the RSQ3 is best served by the traditional slow-in, fast-out cornering technique.
If you throw the car around, it starts to feel ponderous and nose-heavy. But be patient, make full use of the prodigious power and quattro traction to rocket out of sharp corners and you can cover ground very quickly indeed.
The Mazda feels remarkably agile for a mainstream machine. There are no fancy driver-adjustable powertrain settings, but the CX-5 is remarkably well sorted and turns into corners with a confident gait. No, it could not keep pace with an RSQ3 -- but nor do you need to adopt a particular driving style to get the best out of the Mazda.
But it's not all about hard driving, right? Life inside the RSQ3 is pretty sweet. Audi has a reputation for going above and beyond with its cabin quality: the RSQ3 has all of the exemplary fit and finish you expect, with some great attention to detail that clearly identifies it as a member of Audi's performance elite.
There are subtle badging and instrumentation changes and the leather seats are upholstered in a gorgeous quilted pattern.
The Mazda CX-5 is well-finished but hardly exciting, even when compared to its more direct rivals. There's a pleasing simplicity to the instrumentation and controls, but it's all pretty conservative.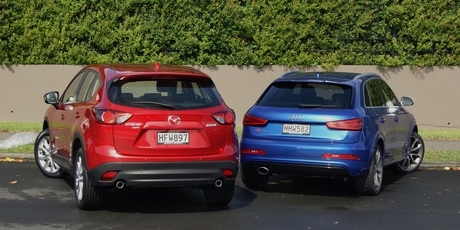 All credit to the Mazda for its high equipment levels, though. It matches the Audi on luxuries such as heated seats and gas-discharge headlights, and even goes one up on some key features such as auto-dipping headlights (optional on the RSQ3) and Smart City Brake Support (SCBS), which will automatically slow or stop the car at up to 30km/h to prevent nose-to-tail collisions.
Is Mazda CX-5 a half-price hero?
The Mazda CX-5 remains a critical favourite and rightly so: it has a great combination of high style, a high-tech powertrain and impressive practicality. Its mission in life is to attract mainstream buyers, so there's no way it can feel even half as special as the Audi RSQ3.
But as a useful crossover with a surprising combination of performance and driver-pleasing dynamics, our verdict is yes: the versatile CX-5 is certainly a half-price hero.