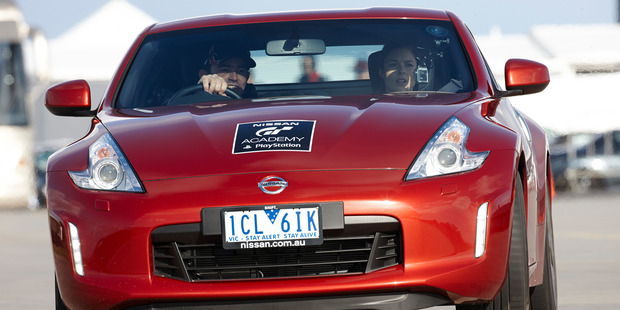 Nissan Australia and Sony Computer Entertainment Australia have confirmed the six Australian gamers that will compete at the Nissan PlayStation GT Academy International Final at the Silverstone circuit in the United Kingdom next month.
While sadly this round Kiwis missed out (NZ was not a participating territory), our mates across the ditch fought it out to make the grade.
The six Australians earned progression after a gruelling Nissan PlayStation GT Academy Australian Final in Melbourne over the weekend, where 28 of Australia's best gamers competed for glory across two days of intense competition.
Sydney's Joshua Muggleton, Melbournians Peter Read, Benjamin Smith, Marcello Rivera and Luca Giacomin, and Dylan Gulson, who resides from Bathurst, New South Wales - the spiritual home of Australian motorsport - won the six coveted places at Silverstone.
These six successful gamers now prepare to battle against fellow gamers from Thailand, India, Mexico and the Middle East at the 2014 Nissan PlayStation GT Academy International Race Camp. The Australian finalists will compete against 24 international hopefuls, getting the opportunity to compete in on-track evaluations at the home of the British Grand Prix, driving some of Nissan's best road and race cars.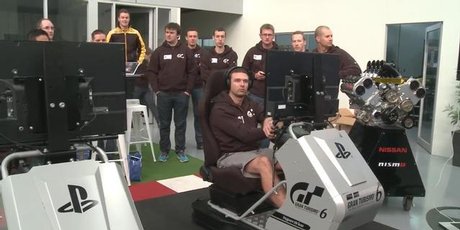 The winner of the International Final will get the chance to become a professional race driver, as they're put through an intensive Driver Development Programme to ready them for a drive with Nissan at the 2015 Dubai 24 Hour sportscar race.
The Australian Final was held over two days in wintery conditions, with finalists from all around Australia converging on Melbourne for the pressure-filled event. Fourteen contestants progressed through to the final via 'online play' of Gran Turismo 6 on PlayStation®3, with the other 14 qualifying via 'live events' held at V8 Supercars Championship events in Adelaide, Melbourne and Perth, as well as shopping centre events held in conjunction with Dick Smith in Sydney and Brisbane.
The Gaming Challenges were staged in a spectacular setting on the car preparation floor at the state-of-the-art Nissan Motorsport race team in Melbourne, with contestants literally staring at their dreams as they vied for supremacy in various challenges in Gran Turismo®6, just a few feet from the Nissan Altima V8 Supercars.
Nissan Motorsport's fitness expert Sam Waley also pushed finalists to their limit in the Fitness Challenges.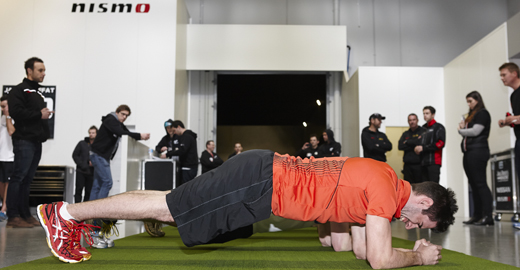 The finalists had to prove their fitness was up to the task of driving in a competitive race environment.
The event also ventured to the famous Phillip Island Grand Prix Circuit south of Melbourne, where the gamers were faced with Driving Challenges in Nissan 370Z coupes under the watchful eyes of Nissan Motorsport V8 Supercars driver and former Bathurst 1000 winner Todd Kelly, as well as racing driver and driving instructor Samantha Reid.
Given the importance of the off-track elements involved in professional motorsport, finalists were also subjected to scrutiny in a Media Conference scenario.
After thousands of gamers logged laps in live events or online play and following gallant competition from the 28 finalists at the Nissan PlayStation GT Academy Australian Final, the six Australians progressing to the 2014 Nissan PlayStation GT Academy International Race Camp at the Silverstone circuit.
"It's a good feeling. It's nice to be part of the competition, and winning is a bit of a bonus," said Luca Giacomin, one of the six winners.
"I've never been to Silverstone before, so it will be quite exciting. I still have a bit of work to do with some real driving and fitness, but I'm looking forward to getting stuck into it."
One of these six could follow in the footsteps of previous Nissan PlayStation GT Academy winners, who are now reaching the highest levels of global motorsport.
GT Academy's inaugural winner, Lucas Ordonez, has gone on to become the poster boy for 'virtual to reality' racing. The Spaniard became the Blancpain Endurance Series Pro-Am champion in 2013 and was a podium finisher at the 24 Hours of Le Mans in the LM P2 class in both 2011 and 2013. This year he is racing in the Super GT Championship in Japan.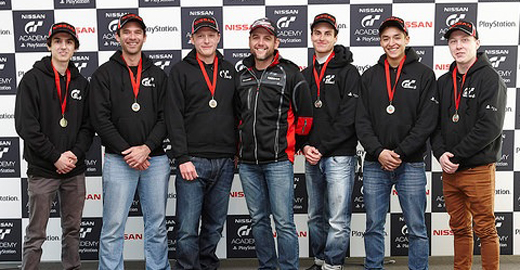 GT Academy winners Peter Read, Joshua Muggleton, Dylan Gulson, Nissan Motorsport V8 Supercars driver Todd Kelly, Luca Giacomin, Marcello Rivera and Benjamin Smith
Ordonez also got his first taste of a V8 Supercar last year, driving a Nissan Altima V8 Supercar in a test day at Winton.
Another Nissan PlayStation GT Academy graduate, Wolfgang Reip, competed in Australia as part of the NISMO Athlete Global Team in the 2014 Bathurst 12 Hour alongside Nissan Motorsport driver Rick Kelly in a Nissan GT-R NISMO GT3.
Jann Mardenborough, another former Nissan PlayStation GT Academy graduate, is competing in the GP3 Series with Arden International in 2014, while also joining an intensive driver development program with Infiniti Red Bull Racing, the most successful Formula One team of recent seasons. Mardenborough joined Ordonez on the LM P2 podium at the 24 Hours of Le Mans in 2013.