New lease of life for former world champ in distance events, writes Andy McGechan
There is life in the old dog yet and perhaps recently retired motocross hero Ben Townley has found his new calling.
The 29-year-old former motocross world champion celebrated a winning debut at the Honda Tarawera 100 cross-country marathon last season and this year the Bay of Plenty man has made it two impressive victories in a row.
Now devoting his time to working as manager of The Honda Shop Racing Team, Townley showed his race craft was still sharp as he took his Honda CRF450 to win the 37th annual edition of the great race just over a week ago.
Townley (The Honda Shop CRF450) snatched the holeshot at the Tarawera 100, the start area in a large paddock within a stone's throw of the village of Te Teko, west of Whakatane, and he was never headed in the gruelling 140km race.
He finished ahead of fellow motocross exponents Brad Groombridge (Bel Ray Suzuki RM-X450), of Taupo, and Rhys Carter (Bel Ray Suzuki RM-Z450), of Mount Maunganui, with Auckland pair Sam Greenslade (Spectrum Motorcycles Kawasaki KX450F) and Ethan Martens (Altherm JCR Yamaha YZ450F) rounding out the top five.
The margin for victory was narrow, with Townley leading Groombridge across the line by just 21 seconds and he was just 1min 31secs ahead of Carter after four 43-minute laps of the hilly grassland circuit, but Townley's tactics were carefully calculated.
"I knew I needed a good start and when I got the holeshot I knew I was in a good position to go on and win.
"I settled into the race and then put the hammer down on laps two and three and then just tried to survive after that.
"To be honest, though, I couldn't have held Brad at bay for another lap. I didn't realise he was coming so fast."
Townley was also credited with the over-300cc four-stroke class win, while fellow Honda star Scott Birch (Honda Hamilton CRF250), of Rotorua, won the under-300cc four-stroke class.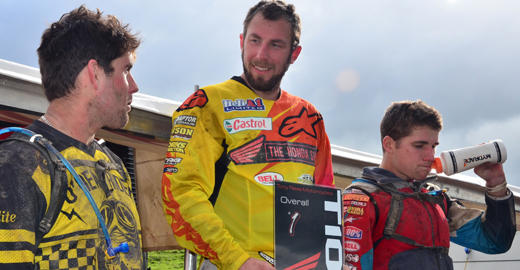 Taupo's Brad Groombridge (runner-up), Ben Townley (winner) and Mount Maunganui's Rhys Carter (third).
Open class and overall runner-up Groombridge showed incredible pace and was perhaps a little unlucky not to celebrate his first Tarawera 100 outright win.
"I had a horrible start," he explained.
"And then I crashed early on the opening lap trying to jump the creek. I was a long way back.
"Then I just decided I'd better go for it and ride on the limit. I knew I could catch Ben and a made up a lot of ground on the first lap. I guess I just ran out of time to beat him."
Third-placed Carter also had problems to overcome. "About halfway through lap three I clipped a tree stump and bent my gear shifter and couldn't change gears properly after that," he said. "I just had to cruise and see if I could get through the rest of the day without any further incidents and that's when Brad [Groombridge] went past me."
Other class winners were Auckland's Chris Power (Yamaha YZ250, over-200cc two-stroke class); Auckland's Liam Draper (Husqvarna TE125, under-200cc two-stroke class); Thames' Natasha Cairns (KTM 200XCW, women's class); Maruia's Ethan Bruce (Yamaha YZ250, under-19 open class); New Plymouth's Tony Parker (KTM 350XCF, veterans' 35-39 years); Whakatane's Darren Capill (Yamaha YZ450F, super veterans, 40-49 years); Auckland's Stephen Major (KTM300, mega veterans, over-50 years).
Morrinsville brothers Hayden and Nathan Tesselaar shared a KTM 350XCF to win the new two-man, one-bike class, while Hamilton pair Aaron Jones (Yamaha YZ250F) and Andrew Charleston (Honda CRF250) combined to win the new two-man, two-bike class.