Supercars driver's formidable showing at Bathurst pays off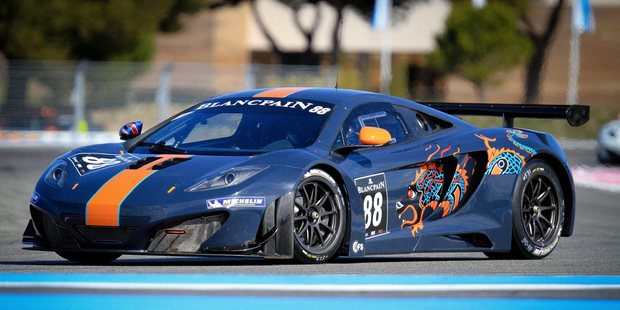 Just weeks after New Zealand Porsche works endurance driver Brendon Hartley took on the Le Mans 24 Hours, another Kiwi will be contesting a famous endurance race.
V8 Supercars driver Shane van Gisbergen is heading to Belgium to join Von Ryan Racing to contest the Spa Francorchamps race on July 26 in a McLaren MP12-4C GT3 car.
Van Gisbergen's call to race in Europe came on the back of his formidable showing in this year's Bathurst 12 Hour race in February, where he showed he could handle a GT car with aplomb. He put a few heart-in-the-mouth moves on much more established international endurance drivers that showed he could mix it with the best.
"That McLaren [MP12-4C GT3] is unbelievable," said van Gisbergen after his first stint.
"Catching Bernd Schneider and watching his head bobbing around in the rear vision mirror was pretty cool."
A race win wasn't on the cards; van Gisbergen and the team had to settle for fourth.
On the plus side, one of the Kiwi's co-drivers was Andrew Kirkaldy, the managing director of McLaren GT Racing, who was impressed with van Gisbergen's time behind the wheel.
"I kept in contact with Andy [Kirkaldy] and he arranged for me to be one of the drivers at Spa in a McLaren.
"It's great to be able to experience other stuff and it doesn't take anything away from racing Supercars.
"The circuit looks cool on paper and the section at Eau Rouge and up the hill looks fantastic and I can't wait to give it a go. I think the McLaren will suit the track because it was good at Bathurst on the fast and open stuff.
"I had a good time at Bathurst and was mixing it with some good names and Andy saw that we were good enough and hopefully I can show that over there [at Spa]."
Kiwi Dave Ryan, who is the former sporting director of the McLaren Formula One team, heads van Gisbergen's Von Ryan Racing team.
Ryan hasn't met van Gisbergen in person yet, but has heard some pretty good things about the youngster. It also helps that Steve Hallam, who happens to be a former McLaren F1 employee and former colleague of Ryan's, runs his V8 Supercars team.
"I've heard some really good things about Shane from people whose opinion I respect," said Ryan. "Having watched his performance at Bathurst I have no doubt about his capabilities in the car.
"As long as we can provide a car and team good enough I have no doubt he'll be there or there about -- well that's the plan anyway. He'll be driving with Rob Dell, who's a works McLaren driver, and I'm really lucky to be able to have him in the car.
"Rob's vastly experienced and really quick -- just the sort of guy you want to be racing with.
"He knows the car inside out and that will help us out enormously. We're just firming up the third driver and we'll announce the name soon."
The thing about the Spa 24 hour race is teams don't get a lot time to practise. Having more experienced drivers who have already had time at Spa and experience in a McLaren will allow van Gisbergen extra seat time during the limited practice sessions.
To help matters even more, Ryan has already sent the Kiwi previous data from Spa so he can at least begin to get his head around the track with some of its peculiar nuances.