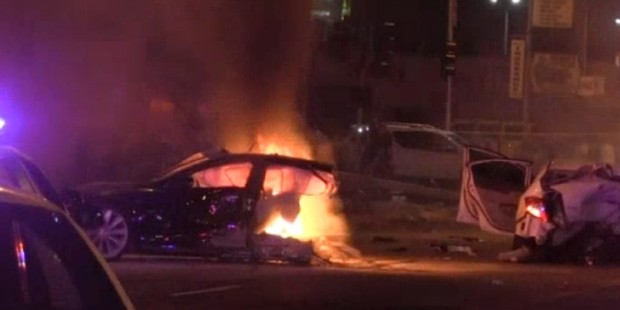 One owner of the ultra-desirable Tesla Model S has seen his pride-and-joy cut in half and on fire after it was stolen and crashed in LA.
While the Tesla Model S is undeniably one of the most desirable electric cars on the market thanks to it's sleek looks and excellent performance, it has also suffered scrutiny over the risk of fire breaking out after an accident.
• Read more Tesla hoses down fire fears
• Read more Tesla Model S hits right hand drive markets
While Tesla quenched previous fears, the debate over the fire risk of Tesla vehicles will be rekindled after a Tesla Model S burst into flames after an American car thief split it in half after a car chase.
The Hollywood crash followed a chase with Los Angeles Police, with the stolen electric car reaching an estimated 160 kph.
The stolen Tesla smashed into a synagogue, split in two with the rear section lodging itself in the synagogues doorway, while the front half of the car ended up in the street where it caught fire.
The driver of the stolen car remains in critical condition after being ejected from the car.
Five other people in other vehicles struck by the stolen Tesla were injured, one critically.
Tesla Motors declined comment on the incident.