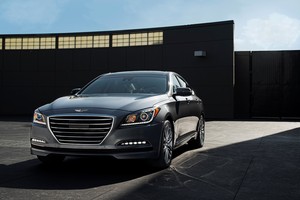 Imagine technology that automatically enables you to dodge speed-camera traps.
There was no dreaming for drivers behind the wheel of Hyundai's new Genesis in South Korea this week.
With the latest satnav and radar cruise control systems, the Genesis could maintain a hefty velocity above the limit but slow down through fixed speed-camera points.
The satnav system has to be enacted and a destination input for the system to work, but it enables the driver to avoid nasty surprises in the mail.
The technology is not coming Downunder just yet. A different satnav system from the one demonstrated in Korea will be used in Australasian models, so it won't be available in this year's model.
But given the excitement it generated among the motoring press, Hyundai will have it on the must-have list in years to come.
The Genesis is due to launch in New Zealand this year, and is set to take on the luxury sedans from the European marques.