First woman driver hopes to short circuit the men, writes Eric Thompson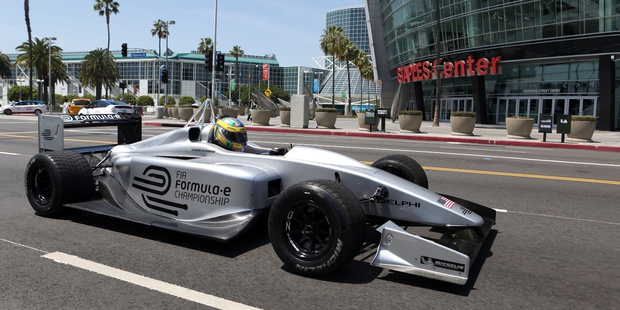 The first race of the inaugural Formula E Championship is still a few months away -- in Beijing on September 13 -- but the championship is gaining momentum.
Since the beginning of the year there have been announcements about who's signed up for whom and the list is a who's who of former F1 pilots plus a few endurance and sportscar drivers.
Former Champ Car and part-time IndyCar racer Brit Katherine Legge has become the first woman to sign up for the electric single-seater series.
The 33-year-old becomes the first of two drivers to be announced by the Amlin Aguri team and Legge is excited about racing in the world's first all-electric series.
"For me this is a really exciting opportunity. The car is fantastic, it looks amazing and it will be very quick," Legge said.
"Racing through the streets of the world's leading cities will be an incredible experience and I think it's a great chance to bring racing to the people. We will be driving in their cities on their streets."
Legge has a solid pedigree racing single-seaters having won a race and finishing third in the Toyota Atlantic Championship in the United States. In 2005 she became the first woman since Sarah Fisher to test a Formula One car. On joining Champ Car in 2006 she became the first woman in the series history to lead a lap.
Lately she has been picking up drives in DTM, IndyCar and the American Le Mans Series.
Former F1 driver Nick Heidfeld and sportscar pilot Stephane Sarrazin will also join the new series. Heidfeld is the seventh former F1 driver to join the championship, joining Daniel Abt, Lucas di Grassi, Sam Bird, Jaime Alguersuari, Bruno Senna, Karun Chandhok, Franck Montagny and Jarno Trulli.
The inaugural season will be contested over 10 rounds from September to June next year.
All rounds will be contested entirely on city-centre circuits with races in China, Malaysia, Uruguay, Argentina, America, Monaco, Germany, England and a yet-to-be-confirmed 10th venue.
Dowunder fans of the electric cars might get their chance to see the series as it has been rumoured that the organisers are considering a couple of Australian venues.
One venue for a possible 2016 race that would make sense is the Parklands street circuit in Adelaide, which also hosts the V8 Supercars Clipsal 500 season-opening event.
The teams feature some high-profile names in motorsport, including Alain Prost and Michael Andretti, plus environmental supporters including Sir Richard Branson. There's also a hefty incentive in the purse of $650,000 for each race and a bonus of $3.5 million for the winning team.
The race format will be something not seen before.
Each driver has the use of two cars. Each race is about an hour long and while one car is being punted around the inner city streets, the other will be plugged into a wall socket getting re-juiced.
There will be two pit stops in each race.
Formula E race calendar
•Beijing, China - September 13
•Putrajaya, Malaysia - October 18
•Punta del Este, Uruguay - December 13
•Buenos Aries, Argentina - January 10
•TBA - February 1
•Miami, America - March 14
•Long Beach, America - April 4
•Monte Carlo, Monaco - May 9
•Berlin, Germany - May 30
•London, England - Jun 27