Aucklander Adey Ramsel is the artistic director of the Newmarket Stage Company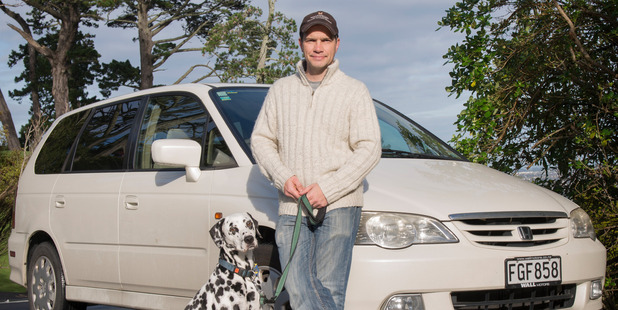 What do you drive?
A 1996 Honda Odyssey, nicknamed the "Father Ship" in our family because I ferry my twin boys around. I think it was white when it left the plant shop. When we were expecting twins we realised my Mazda hatchback and my wife's VW Beetle were not going to cut the mustard. My wife already had two boys and we had a lively Dalmatian dog -- so we needed a truck, not a car! We wanted something we could literally throw everything and everyone in but still looked like a family car. With my job I needed to carry whatever was on the set or props list for the show I was working on. So the Odyssey won hands down as the best all-rounder. I do like being slightly elevated -- that's a little bit of small man syndrome coming through.
First car?
All through my teens the only car I wanted was an Alfa Romeo so I saved and was able to afford a dirty white, banged-up Mini Metro. Very old, very decrepit and an apt number plate that ran SLO 89W -- SLOW was the word! I called her Doris, after Doris Day.
Dream car?
An Alfa Romeo. The look, the feel, the design, it just yells at me, comfortable classy driving. If I ever drive one I may hate it.
Who taught you to drive?
In the late 80s, early 90s in the UK, the age of the family member teaching you to drive was on the way out and schools of motoring were everywhere. I went with the guy who taught my mum to drive -- John Bath School of Motoring, 25 years on and I still remember his name. He taught me by calming me. We would drive around for an hour and chat about everything and nothing and never once did he try to teach me about cars or instruct -- it just seemed to happen. But living in Bristol was where I really learned to drive -- if you can navigate their roads, you can drive anywhere.
Manual or automatic?
When I was working in variety performances in the UK the standard car to use was manual. You would finish a gig at 11pm then drive a few hours or more home -- cabaret acts preferred manual as it kept them alert, changing gear. Nowadays it's automatic. Old age, sore joints.
Most memorable road trip?
Before we got married, my wife and I took a holiday and just explored the UK map, down little roads, out to lakes, through tiny villages. Loved it. I remember taking most of the day to find what was meant to be a huge lake but on arrival it wasn't much more than a puddle.
How often do you clean your car?
I'd like to say every week but my wife will read this. I always keep my car impeccable for the first two months, then life takes over. Every few weeks I empty it of lunch boxes, toy cars, beanies and socks. Plus the back window is a smorgasbord of dog slobber.
How do you keep the boys happy on car trips?
They travel very well ... regular stops, snacks, books, a new toy car and singing.
What do you listen to?
CDs. At the moment it's The Best of Cat Stevens.
Great day trip out of Auckland?
We like to go out to the gannet colony, Muriwai.
What irritates you most about other drivers?
Slow driving when I need to be somewhere, fast drivers when I want to dawdle. People have no consideration.
Would you rather drive in Auckland or take public transport?
Drive, though I am warming to the train.
Who else is allowed to drive your car?
My wife, but she doesn't like to. Too messy, too much dog slobber and the wrong sort of music.
As told to Donna McIntyre