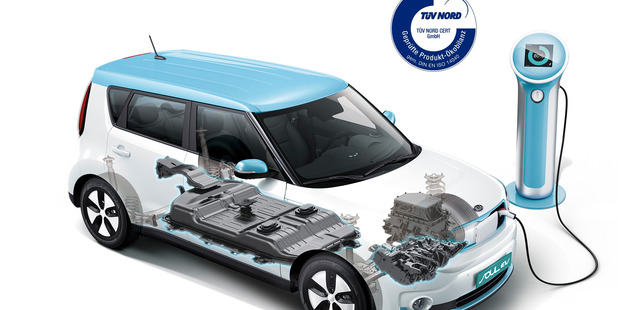 The Soul EV has become the latest model from Kia to earn important certification for its outstanding whole-life environmental credentials.
TUV Nord, an independent technical inspection organisation, has certified the new Soul EV according to the ISO 14040 Life Cycle Assessment (LCA) standard.
LCA examines the environmental impact of both the car and the overall manufacturing process throughout its whole life, taking into account factors such as choice of materials, tailpipe emissions and recycling.
Comparing the Soul EV to its diesel counterpart currently on sale in Europe, the zero-emissions electric vehicle scored particularly strongly for "Global Warming Potential", emitting 39.7 per cent fewer greenhouse gases over the whole life of the vehicle, such as carbon dioxide and methane.
The Soul EV also scored an improvement in "Photochemical Oxidant Creation Potential", limiting the amount of smog created by the vehicle's manufacturing process and by the vehicle itself throughout its life.
Kia's first TUV Nord certification was earned in 2008 with the first-generation cee'd, and this year's certifications bring the total number of Kia models with ISO 14040 LCA certification to 11.
The product development process employed by Kia is aimed at minimising the environmental footprint of Kia's manufacturing operations, and all cars developed by the brand since 2006 have been built with the LCA in mind.
The Soul EV produced for both Korean and European markets has been ISO 14040-certified, with models for the North American market due to follow in August.