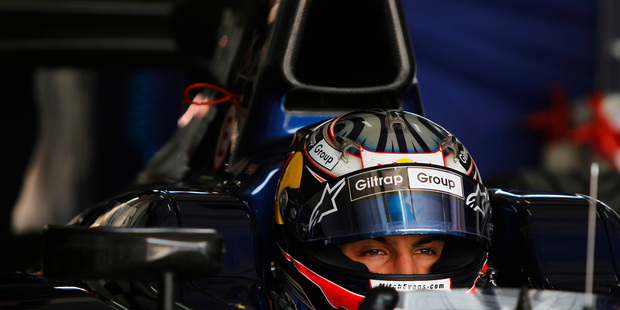 Just three tenths of a second split Mitch Evans from the podium in the GP2 sprint race in Austria overnight. In a tight finish Evans claimed fourth at the Red Bull Ring; only 7.13 seconds behind race winner Johnny Cecotto.
The reverse-top-eight grid had Evans starting on the front row after his seventh placing in the Saturday feature race; but an uncharacteristic poor start meant he was swamped in the charge to the first corner.
"It was my mistake coming off the line. I misjudged my reaction to the lights. I dropped the clutch too soon and the anti-stall system kicked in. It was disappointing but I was pleased with the rest of the race." explained Evans.
A well-judged recovery drive saw him closing right up on Italian youngster Raffaele Marciello for third place in the closing laps. He tried twice on the final lap to dive inside but missed the podium by a mere 0.3 sec in a charge to the line.
"After the start we all came together at the first corner. I was boxed in by Marciello and, after my bad start, I was fifth. In the early laps I was not pushing too hard because I wanted to preserve my tyres for the end."
"I was closing up little-by-little on each lap. We'd seen a small amount of tyre degradation during the feature race so I was being sensible. I got by Alexander Rossi and started to close on Marciello.
"A dive bomb on him on the last lap almost came off. It was a shame we didn't get on the podium but we took good points from both races in Austria. It was a missed opportunity, yet there are lots of positives - we've found more speed in the car and we are getting more competitive.
"We don't have the fastest car yet; but we are making progress. I'm looking forwards to the British Grand Prix round at Silverstone in two weeks." said Evans.
Johnny Cecotto Jr won race eight of the GP2 Series on Sunday morning, holding off Stefano Coletti by 0.742s in a thrilling encounter. Cecotto stormed into the lead from the second row at the start as poleman Rossi and fellow front-row man Evans (Russian Time) made poor starts.
Cecotto's first challenge came from Rossi, who shadowed him over the opening five laps. However, Rossi fell back into the clutches of Marciello, who had ended the opening lap in fourth.
Marciello passed Rossi for second on lap seven, and closed right up to race leader Cecotto. In spite of hounding him for several laps, Marciello's tyres went off, and he fell back. Coletti, meanwhile, passed Rossi for third on lap 17, and then repassed Marciello for second two laps later.
Cecotto's three-second lead quickly disappeared as Coletti cut the gap, but he could not find a way past. Marciello clung to third, despite a couple of lunges from Evans in the closing stages. Rossi finished fifth.
After four rounds of the 11-round GP2 Series, Mitch Evans maintains eighth place overall; and in striking distance of the drivers just ahead of him on the points table (below)
It was Cecotto's second win of the season and puts him third in the points race. Series leader Jolyon Palmer, who finished sixth, extended his lead over Felipe Nasr to 33 points. Nasr was an early retirement with a clutch problem.
Julian Leal was seventh, after being pushed into the run-off by Palmer on lap 20 after they had swapped positions a number of times.