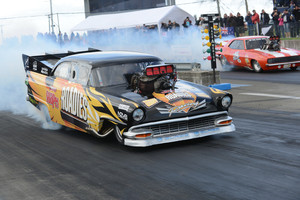 As the old Chev pulled out of the hardware uberstore carpark, I saw the driver clock the kid and his old man watching it leave.
Idling with a cam-lumpy V8 note that showed it wasn't built to roll over and play dead, I didn't think he'd be able to resist it.
The traffic light flicked to green, the seas of motoring mediocrity parted as the mid-50s, finned and fine piece of American metal made its presence heard. And felt, for that matter, right in the guts.
The young fella looked up at his dad like his wee mind was blown, and the same look was returned. Mum wasn't impressed. In fact, by the expression on her face, you wouldn't know that she'd just been tool shopping -- and hiding unbridled happiness like that isn't easy for anyone.
"Oh grow up," she spat. It wouldn't have mattered if she was serving up a plate of steaming Brussels sprouts and tripe, the car boys weren't letting it go. It was a beautiful machine from when Detroit was really Motor City, and it made the right noises that, to those who didn't understand, -- mother included -- were oh-so-wrong.
It's this pure, unbridled joy that makes us what we are -- there are cars that most Driven readers will see, sometimes just hear, and it's all on. The inner 7-year-old is released, the goofy grin and the chance to revel in the fact that you've just seen something truly, completely cool.
Where are these cars now? They're still out there, and they're still coming. We're in a state of reinvention now -- and it could end up being pretty exciting. The rowdy V8s are giving way to foliage-friendlier twin-turbos with a few less cubes, everything's getting light and greener, but with these little hairdryers and the black art of direct injection they're making big power figures. There are hot hatches cropping up with pleasing regularity and there seems to be a bit of a muscle car renaissance going on.
There's no modern peer of a '56 Bel Air, nor a Lancia Delta HF Integrale or an AC Cobra. Not yet, but they are probably coming.
What do you think are going to be the rolling icons of the future?
Let us know at below, or on facebook.com/DrivenNZ
For more car news go to nzherald.co.nz/driven