Holden wagon takes on Jaguar in our half-price heroes series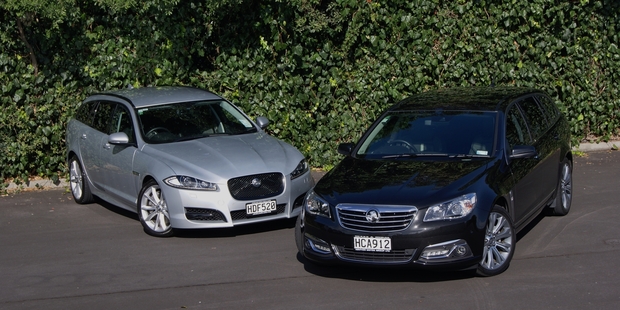 We will miss the brash nature of the Australian car manufacturing industry when it's gone.
When the Holden Commodore VE was launched back in 2006, its maker proudly proclaimed that the all-new model had been benchmarked against some of the best prestige European models.
In hindsight, that might have been overly ambitious. But VE did reach far above its station in terms of design and dynamic ability. Especially in the sleek Sportwagon version that came along in 2008, which was much less like a traditional Aussie wagon and much more in the mould of a European "shooting brake".
Last year's VF upgrade has really completed the Commodore. It's the same basic package but 75 per cent new, with vastly improved build quality and a host of high-tech features thanks to electronic architecture shared with General Motors' global portfolio.
Turns out the VF will also be the last completely Australian Holden, as the company has announced it will cease local manufacturing by 2017.
This is the best the Commodore will ever be, so perhaps it's time for us to see how it stacks up against something expensive and European.
Such as the Jaguar XF Sportbrake, a highly acclaimed luxury model that is a perfect match for the VF in exterior dimensions, powertrain layout and of course that impossibly stylish wagon-coupe body shape.
Welcome to another of our semi-regular "half-price hero" features.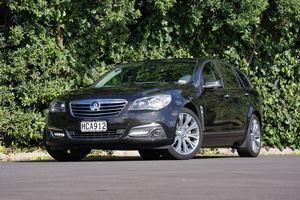 A quick refresher: the idea of these stories is to identify a really special new vehicle with particular character traits, then try to find something that gives you a similar experience for half the price.
We're not suggesting that the less-expensive vehicle is better, although we'll happily tell you if it is. Rather, we're just trying to find a half-price car that can deliver a similar experience to the upmarket one in a few crucial areas.
Both Holden and Jaguar have pursued the wagon body style more for reasons of high style than ultimate load-carrying ability.
Nothing wrong with that, when the results are so much more sexy than their sedan equivalents.
Both are traditional large-cars underneath: powerful engine up front, driving the rear wheels through an automatic transmission. Our Commodore has a 210kW/350Nm 3.6-litre V6 powerplant (you can also have a 6.0-litre V8) and is featured here in upmarket Calais V specification, for $68,990.
Straight away, the Jaguar showcases something Holden cannot offer: a powerful diesel engine. Or rather a choice of two. The entry XF Sportbrake has a 2.2-litre unit, but the car shown here is a 202kW/600Nm 3.0-litre V6 turbo-diesel S, which costs $120,000.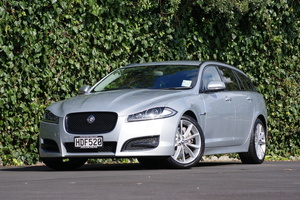 Still a relative bargain in the premium segment, but nearly twice the price of the Calais V Sportwagon nonetheless.
The Holden's V6 petrol is an average example of the breed, while the Jaguar's V6 turbo-diesel is a beauty by any measure: extreme torque and elastic performance at virtually any speed. The Calais has a six-speed gearbox, the XF an eight-cog unit.
The Holden fares better in handling. It can feel ponderous at low speed, but ultimately a car with incisive steering and a beautifully balanced chassis emerges. It's a real driver's machine, no question.
As is the Jaguar. The quality of the XF really shows through in the breadth of its abilities. There's a nimble feel to the car at urban speeds that makes it a delightful thing to pilot at 50km/h, yet it still has the poise and sense of purpose to deploy that monster 600Nm of torque at high speed. There's a great combination of polish and sheer punch: the XF S has both Adaptive Dynamics and self-levelling rear suspension in Sportbrake form.
Cabins are a potential weak point for both cars. The VF interior actually has more hard plastic than the previous VE, but the build quality is much improved and the cheap surfaces are cleverly dressed in our Calais model with pseudo-suede inserts. Overall, it's nicely executed despite the humble base material.
The Jaguar is elegant inside and constructed from high-quality materials, but a lot of the stuff that was novel when the XF was launched in 2007 is getting a bit tiresome now: like the "hidden" ventilation outlets that magically appear out of the dashboard, or the fiddly rotary gear selector.
The Calais V's trump card is driver-assistance technology. It comes as standard with head-up display, forward collision alert, blind-spot and lane-departure warnings, and cross-traffic alert. It can also park itself (or at least do the steering for you) in either parallel or right-angle spaces.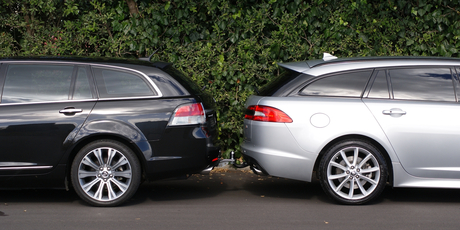 The Jaguar has blind-spot warning but can't match the rest, which illustrates the lengths Holden has gone to in making the VF state-of-the-art. The eight-inch MyLink touch screen is also superior to the Jaguar's seven-inch interface, which doesn't look as attractive and requires more of a prod from the upper phalanges to operate.
Both cars are low and sleek, but have a surprising amount of space in back thanks to nearly two metres of load length.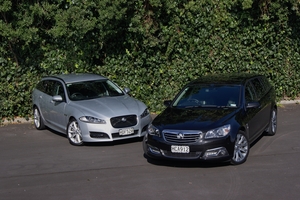 The Holden has a higher aperture (the tailgate is hinged a long way into the roofline, to allow for opening in tight spaces) but the Jaguar has some fantastic detail touches in the cargo bay, such as a remote release to fold the rear seats, a track system for securing loads (the Holden has four simple tiedowns) and a power-operated tailgate.