Ford pulls out the stops for big Falcon's final farewell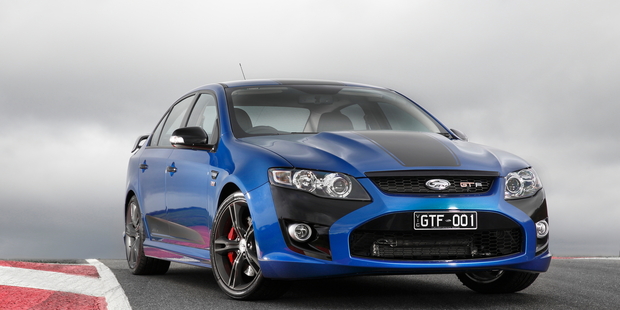 Ford's final FPV Falcon GT F has a potent combination of power and good looks.
The last monster Falcon has rolled off the production line in Australia.
Ford this week pulled the covers off the GT F, the final flying Falcon from Ford Performance Vehicles.
And while the new car doesn't have the same racetrack heritage as its 1970s predecessors, it's on the fast track to becoming a collector's item.
Only 500 were made, and New Zealand has been allocated 50. Every single car from the Kiwi contingent has already been sold, at $99,351, except for the No 1 and the No 50.
Both of these are owned by Ford, and the only way blue-oval buyers can get their mitts on them will be to win charity auctions.
Ford has pulled out the stops to connect this final hurrah to those brave blokes who punted GT Falcons around Australasia's tracks -- starting with the official power output of 351kW.
Rather than the 351cu inch (5.8l) V8 made famous in those racers, the new car runs the same supercharged 5-litre Boss engine as other FPVs, but the engineers have pushed its performance further.
While that brochure power figure -- and a whole lot of badging -- carry the magic number of 351, the engine is capable of bursts of up to 404kW and 630Nm using an overboost function. Officially it's 351kW and 570Nm --- bulletproof numbers under all conditions, apparently, as the ECU limits when overboost can be employed to avoid engine damage.
It may be the most powerful Falcon GT to roll out of the doomed Broadmeadows plant, and the last FPV, but there will be one last version of the XR8 Falcon appearing before the factory is shuttered.
That stock model certainly won't pack the punch of the GT F, and it won't have the same comprehensive list of go-fast add-ons.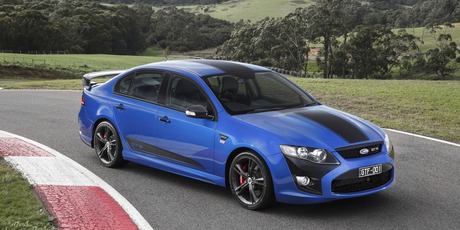 There are five colours -- white, blue, black, orange and grey -- with the obligatory hockey-stick decals, and interior GT logo treatments on the leather sports seats.
It sits low over 19-inch rims on R-Spec suspension with retuned dampers, reinforced control arms and anti-roll bars and an increased spring rate.
Peeking through those big wheels are the necessary tools to stop a big, heavy beast like a Falcon -- Brembo six- and four-pot calipers front and rear, respectively.
FPV chief programme engineer Peter de Leur said his team worked to give GT F drivers a package that performed better than existing FPV machines, without being a road-going nightmare.
"When we started this programme we had an opportunity to look at a performance increase for the engine so we developed a strategy around the calibration that allowed for a performance upgrade without affecting the all-round driveability of the car," said de Leur.
"We were also able to add things like rear camber bolt adjustment on the rear suspension so it can be adjusted for track days."
Driven has secured the exclusive first press drive of the new car, so we'll let you know how well it worked.