This classic is loud and fun to drive, as Jacqui Madelin found out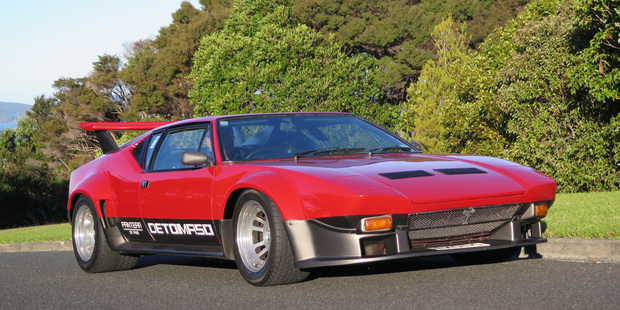 I'm standing outside the garage when he fires it, and instantly sport an ear-to-ear grin, for Steven Neville's 1972 De Tomaso Pantera is possibly the naughtiest car I've ever heard.
The noise verges on cataclysmic, and I bet he's popular with the neighbours...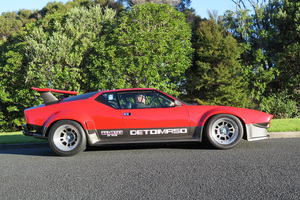 I try asking but it's tricky keeping Steven on topic, and not just because he's irrepressibly entertaining, but because he and his wife, Michelle, pack so much into their lives.
So not all my plentiful notes touch on the Pantera, for they're also Porsche 356 owners and active Porsche club members, something of a surprise given the Pantera is a great, hairy-chested beast with the visual and aural subtlety of a battering ram, in stark contrast to the German jewel.
When Steven joined the Porsche club in 1985 he owned a Vauxhall Viva. At some point he got talking to someone, "who asked what I'd have if I could only have one car, and I said a Pantera. He said he had one! I nagged him for 12 years to get it off him," says Steven.
He finally bought it in 2006, all but standard, and one of only 11 registered in New Zealand.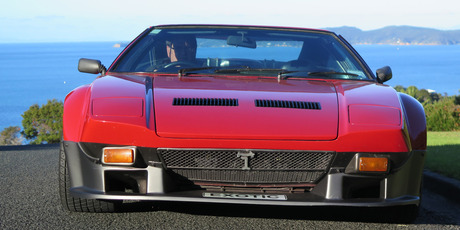 Although the Pantera was built from 1971 to 1991 it was never numerous -- three per day rolled off the assembly line in its heyday. Designed by American Tom Tjaarda to replace the De Tomaso Mangusta, it used a steel monocoque design and launched with a 5.8-litre Ford engine and an advertised 246kW output, though this one's been dynoed at the rear wheels at 290kW.
Steven's kept it pretty standard, other than raising the tiny steering wheel and creating a wider gap between the foot pedals, but went through the car to make sure everything was okay. "He spent a fortune," Michelle says, despite a vigorous attempt to silence her. Mind you, she likes the cars too -- and drove the 356 in a Targa tour while Steven took the Pantera. It's lucky she enjoys driving, for Steven -- a racing regular at the Bridgestone Series for eight years -- suffered a stroke after an accident a few years ago, which put a cramp on his driving for a while, as he couldn't change gear. The pair of them put their backs into his rehabilitation. He lured his physio into the passenger seat to see what exercises he'd need to get that left arm back into gear-changing condition. He now has his full licence back via the mandatory assessment with an occupational therapist and a driving instructor.
He's still glad of the Pantera's mountainous torque -- for you can drive it in first, third and fifth.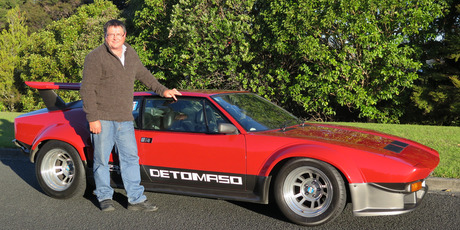 "It'll go from 30km/h to 130 in third gear" and it doesn't need second -- indeed round town it'll pull in third from almost walking pace -- impressive, especially from something that looks and sounds this hairy.
The din from the four massive mufflers is nothing compared to the experience inside the car, for that engine sits just behind your ears, with nothing but a pane of glass to interrupt those mountainously shouty soundwaves. We're both grinning broadly after the second blip of the throttle, then he slaps the gear lever through that machined metal gate, the fat, 345-wide rear tyres wrapping those 15-inch wheels grip and we're off like a robber's dog, Michelle shaking her head as she disappears in the rear view mirror.
At least, she might be -- we can't tell though, there's no rear view to speak of. It handles well, Steven says. It only plays up in the rain, and even then, "You'd have to be dumb to get into trouble."
It's Steven's Sunday driver, and one gets the impression he likes its hooligan overtones. "If you drive it around Takapuna it sets all the car alarms off, and when you park in the disabled park people always have something to say." I'd love a photo of his disabled parking permit swinging from this mirror, but it's dark by now, and we're emerging from another conversational Porsche backwater.
He says the Pantera is "sort of a supercar and a bit different, but if you had an old Lamborghini you wouldn't let anyone drive it. This is a big, lazy pushrod V8 and it's even reasonably economical if driven gently. It'll get 150km from a tank if you thrash it, but drive nicely and you'll get 450."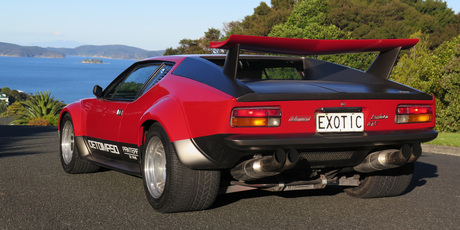 There's no power steering, but it does have a few mod cons, electric windows and air con, a tape deck, servo-assisted power brakes with four-wheel discs, and it's remarkably practical, as the boot's more spacious than expected, though shallow -- effectively a removable shell above the engine.
There's no detail on luggage capacity ... but then who ever bought a car like this to do the shopping in?