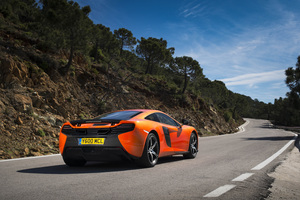 It will hit double the speed limit in under 8.5 seconds -- and it's here.
McLaren's gorgeous 650S is officially on sale in New Zealand, replacing the outgoing MP412C and joining its flagship hybrid hypercar, the P1, as the company's dynamic duo.
There are more models to come, but those inside the Kiwi-linked supercar company are, not surprisingly, remaining tight-lipped.
The 650S is available in two flavours -- Spider and Coupe -- and McLaren Auckland's Luke Neuberger says there are already forward orders for the car stretching into early 2015 delivery.
The Spider will sell for $489,500, without ticking option boxes, and the Coupe for $449,000. This is a fraction of the cost of the cruise missile that is the P1, but the three vehicles allocated to our market by the UK factory are already sold.
We're counting sleeps until Driven's exclusive first drive of the new car in the coming weeks. In the meantime enjoy some stunning photos of the 650S here.