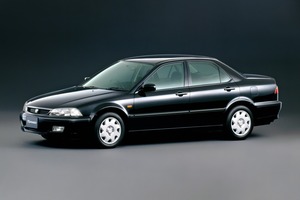 "It's a disgrace," wrote a mate on Facebook this week, "The Honda Torneo is New Zealand's most stolen car. Skylines don't even make the top 10 -- and they're a far better car. What's wrong with car thieves these days?"
Why is one of the less desirable Japanese cars sitting atop a list of the biggest theft targets? It comes down to technology. Though some older vehicles have aftermarket alarms fitted, it's rare for a new car not to have security fitted as standard. The humble Torneo simply can't compete.
We're talking an average price of under $5000 for these victims -- so nothing recently produced, although newer versions of these models are still available in some cases. In case you missed the news this week the rollcall is here: bit.ly/1mH0B4N.
This list isn't a joy for manufacturers to read -- it doesn't necessarily indicate their cars are easy to steal, but it doesn't necessarily help their reputation either.
Subaru, for instance, has its Impreza, Forester and Legacy on the list -- and it's taken radical action to ensure its newer vehicles are well protected. Its parts are coated in microscopic dots with vehicle details -- so if a chop shop wants to pick a Subie to bits and flick the pieces off for a profit, they're out of luck.
Part of the reason older cars are targeted is we're the not-so-proud owners of a vehicle fleet that's almost qualified for one of Winston's Gold Cards. These older cars are soft targets for low-tech car thieves.
Modern machines have brought modern techniques from criminals -- such as code grabbing. Basically, when you hit the alarm/immobiliser button on your keyring, a signal interceptor grabs the code and stores it.
I had a Honda (not a Torneo) that was stolen six times, despite being fitted with a good alarm. After being called to court on behalf of the police I was expecting someone to face the music. When the prosecutor held up a bag of wheelnuts and asked me to identify them, I wasn't so sure.
For more car news go to nzherald.co.nz/driven
*Have you got a car theft horror story, or some good ideas to keep cars safe? Let us know on nzherald.co.nz/driven or on facebook.com/DrivenNZ