Motocross rider off to Europe, reports Andy McGechan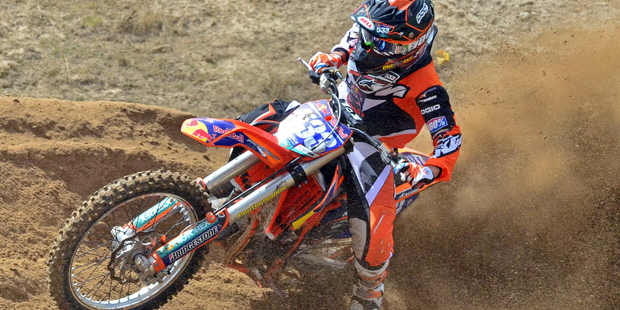 Waikato's Josiah Natzke is ready to spread his wings.
The 15-year-old Hamilton youth made New Zealand motocross history this season when he became the youngest rider to win the senior national 125cc title. Now he is setting his sights on Europe and the rest of the world too.
Natzke is making plans to tackle the annual World Junior Motocross Championships, this season set for the Bastogne in Belgium on August 10, and he has received support from KTM in New Zealand and Australia in this world title bid.
KTM has supplied Natzke with a new KTM125 motorcycle for him to auction off to raise funds for the European campaign.
The bike will be assembled in the style of a "Natzke CMR Red Bull Race Team replica", the same make and model as he rode to victory at the New Zealand Motocross Championships final round in Taupo in March, with a signed Natzke race shirt and an invitation to join the young rider in a full training day also to be offered to the auction winner.
The bike will be auctioned on Trade Me next month.
His parents, Chris and Janine Natzke, said they had received "awesome assistance" from Patrick Stafford, from KTM in New Zealand, and Jeff Leisk, from KTM in Australia, as well as from Kiwi former world motocross champion Ben Townley.
"KTM will provide bikes and support in Bastogne and all that Josiah will have to do is turn up and ride," Chris said.
The teenager will head across to Europe at the beginning of July, giving himself plenty of time to get acclimatised. He will warm up for the junior world champs by racing at two European Motocross Championship (EMX) events, in the Czech Republic and in Belgium in July and August.
"The aim is to make a really good impression in Europe and, hopefully, it will lead to greater things, potentially a position on a Grand Prix team in the very near future, maybe next year or the year after."
Josiah Natzke has previously raced overseas, in Australia and the United States, but this will be his first trip to Europe.
"I've been doing my homework on the race scene," he said. "I've been checking out videos on YouTube of the venues and the riders who I might come up against. I guess I'm not going over there to come second; I'm going there to win. But I'll simply do my best and see what happens.
"I don't yet have any plans for racing in Europe next year, but if something popped up and the offer was there, why wouldn't I take it?"
Natzke said the auction was crucial to his fundraising plans for the trip, but that any other contributions would be gratefully appreciated.
New Zealand riders have a proud history of competing in the Junior Motocross World Championships. When the annual event was staged in New Zealand for the first time, in August 2009, is was probably no surprise that a large number of Kiwis lined up to race but it was Warkworth's Hamish Dobbyn and Otago's Courtney Duncan who really stood out.
Dobbyn took his Kawasaki to finish third in the 125cc class at Taupo, becoming the first Kiwi to finish on the podium at this event and his result, combined with the 13-year-old Duncan's sixth overall in the 85cc class, helped to lift New Zealand to third place in the Nations Trophy classification.
The result by Yamaha's Duncan was the best by a female in Junior Motocross World Championship racing.