Deadly ignition switch spells the end for engine starter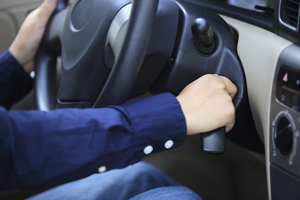 The furore over General Motors' deadly ignition switch could doom the car key drivers have been using for 65 years.
GM chief executive officer Mary Barra says the recall of 2.59 million affected cars may prompt the company to make push-button start standard in all its vehicles.
Push-button start, which showed up in Mercedes models in the late 1990s, is now an option in 72 per cent of this year's cars and trucks in the US. In a survey by vehicle researcher AutoPacific, consumers ranked the technology the fifth most coveted upgrade for US$100 ($116) or less.
"People really see the push button as a convenience and a luxury feature," says Bill Visnic, senior editor at Edmunds.com. "The ignition switch is a very fussy, electro-mechanical part that's seen as less reliable."
Drivers were complaining about key ignitions long before GM discovered switches in the Chevrolet Cobalt and Saturn Ion could slip out of the "on" position, shutting off the engine and disabling air bags.
The defective part has been linked to at least 13 deaths.
The National Highway Traffic Safety Administration has logged more than 18,000 complaints about key ignitions, according to a Bloomberg News analysis. They involve multiple models and carmakers and range from keys getting stuck, vehicles stalling at high speeds and even cars starting on their own.
GM's faulty key ignition is fairly typical of the flaws catalogued by NHTSA over the years. The key could be inadvertently jarred by a knee, uneven road or weighed down by a heavy key chain. GM is under investigation because it waited more than a decade to recall the cars.
Ford's Focus garnered more than 2000 complaints about keys getting stuck or not turning, primarily in models from 2000 to 2005. Because Ford decided the flaw didn't imperil drivers, the company did not recall the cars.
"There was no safety risk, as this could only occur when the car was parked and the driver shut off the engine and tried to remove the key," Kelli Felker, a Ford spokeswoman, said.
Carmakers have recalled about 21 million vehicles for issues related to the keyed ignition switch, including more than 8.8 million from Ford, 5.5 million from GM, 3.5 million from Honda and 1.6 million from Chrysler and its predecessors.
Push-button start has few moving parts and simply sends an electronic signal to the engine. The button works only if the driver brings a small remote unit that also locks and unlocks the doors, into the vehicle.
It's also easier for older people to use as there's less strain on the wrist. Not that push-button start is trouble-free. In 2009, a police officer couldn't shut off a button-start Lexus ES 350 after a floor mat got wedged in a pedal. He and three others died. That model required the driver to hold down the start button for as long as three seconds to stop the car. The Society of Automotive Engineers recommends a range of a half-second to two seconds.
The agency also proposed giving drivers an audible warning if they exit a car without turning off the engine. In several cases, drivers mistakenly started their parked cars in enclosed garages, sometimes leading to a deadly build-up of carbon monoxide. In one such incident in 2010, a Florida woman died and her boyfriend was seriously impaired.
Getting used to new technology always takes time, says Visnic of Edmund's.com. "We're asking people to unlearn something which was developed over generations of habit," he said. "You turned the key and it started or stopped."
-Washington Post