Shane Hansen has painted car panels for the BMW Native Aotearoa Art Car Tour and a bike for Prince George. What's next?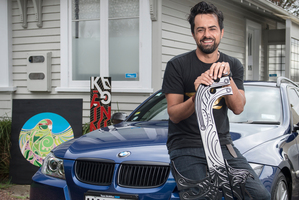 Shane Hansen has painted a Beamer and a bike for Prince George. Next, art cuisine.
What do you drive?
A 2007 E90 325i MSport Touring. I brought this one but BMW has also lent me a brand new 320i GT. To me the 3 series BMWs are iconic driver's cars. The performance, handling and build quality have become a benchmark for other manufacturers to aspire to. The MSport models offer a harder, lower more sporty ride which I love.
Your bird designs featured in last year's BMW Native Aotearoa Art Car Tour. Any plans to customise the paintwork on your car?
I think I'll keep this one purely BMW! It does have carbon fibre inserts to add a bit of individuality.
And that little Avanti bike you painted for Prince George? How cool was that! What's the story behind that artwork?
I called the artwork 'The Big Adventure', as it was a homage to his first trip Down-under.
It represents our flora and fauna, culture and unique place in the world.
It's about his parents being with him every step of the way as he negotiates his adventure called life.
Back to four wheels ... how important is car design to an artist?
Man, good question. There are a few things I look at. Aesthetics and whether it strikes a nice figure on the road, performance, build quality and reliability. Of course now I have a little whanau, safety features like airbags, reverse camera, stability control are a prerequisite. Also, the ability to stack a few pieces of plywood in the back or on the roof is always a factor.
First car?
A 1987 Honda Accord LX. It was NZ new one with no power steering and bouncy suspension. Pretty quick for an old car and reliable as. I was sold on the pop-up lights.
Your dream car ...
I would love to design my own and get the best engineers to build it.
Favourite car colour?
Depends on the model, but black or white kind of does it for me.
Who taught you to drive?
My Dad taught me to drive at the age of about 18 out in South Auckland. Dad didn't have much patience and I didn't enjoy learning with him. It's funny because for the past 18 years he has been a driving instructor and his students rave about how great he is.
Manual or automatic?
I used to swear by manuals, but the ease of the auto makes driving around the city easier. I do put it into sport model and paddle shift when on the open road.
How often do you clean your car?
My boys are like Cyclone Katrina, so I clean the car probably once every 10 days.
Most memorable road trip?
January 1988, heading down to Tokomaru Bay, east coasting it with my cousin Matt. Windows down, tape deck pumping out the sweet sounds of Bread's Greatest Hits, sweat-soaked torso from no air con, nothing mattered, what a blast.
How do you keep your sons happy on road trips?
We have two boys, one 6, one 3, they are the joy of my life. We've been keeping them happy by continually playing Pharell's Happy song, One Republic's Burning Bridges and the whole of Fun's album. They have good taste in music ... still gets repetitive, though.
What's a great day trip out of Auckland?
Heading north via SH16 to our little bach in Tinopai. It's on the Dargaville side of Kaipara Harbour.
I love the 25km road that leads from the Matakohe Kauri Museum along the peninsula to Tinopai, which means 'really good' in Maori.
Who else is allowed to drive your car?
My lovely wife. She is more careful than me. The first week I had it I managed to crack the carbon fibre splitters and put a dent in the driver's door!
Would you rather drive in Auckland or take public transport?
I would rather drive in Auckland. Whereas in Japan I love taking public transport.
Shane Hansen's next appearance is at Vinnies Restaurant, Herne Bay, on Wednesday. Momentum Gallery & Framing will showcase his new artworks during a menu designed by restaurant chef-owner and Bite columnist Geoff Scott.