Return to Pukekohe well and truly vindicated, writes Eric Thompson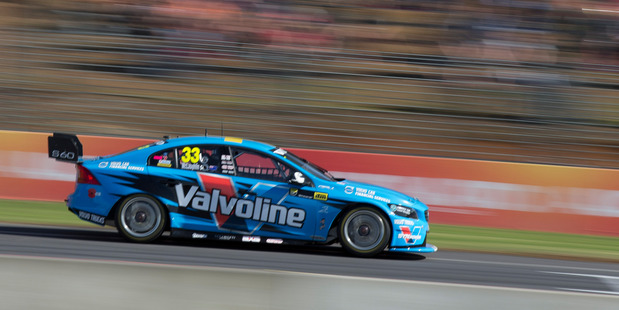 All the detractors who said bringing the V8 Supercars back to their spiritual home of Pukekohe will be hanging their heads after one of the most successful events at the track, when 128,000 people watched the Kiwis take on 21 Aussies and a Swede.
And in the run-up to the race weekend some suggested it would be a washout, but the weather gods smiled on the three days of fast and furious racing to leave fans of big-banger, tin-top racing in a happy frame of mind.
The Auckland Tourism, Events and Economic Development head honchos decided that if Auckland city wanted to be known as a world-class venue for entertainment it needed to be certain that the events really were world class.
Figures from V8 Supercars show that last year the category had an average TV viewership of 17.5 million and was seen in 137 countries - you can't get much more international than that.
Ateed didn't just make a random decision to get into bed with the V8s. After a robust and extensive look at the category it decided, along with due diligence, that the V8SC show was great entertainment and an asset for Auckland to have on its entertainment roster.
"We're thrilled with the crowd response and it's just been a fantastic weekend," said Ateed spokeswoman Rachael Carroll.
"Year one was a great event for us last year and this weekend feels just as good. To have a second year in a row to show such good success shows we're on the right path and made the right decision to bring this event back to Pukekohe."
The New Zealand round of the V8 Supercars championship had a bit of a chequered history before returning to Pukekohe and, to be fair, there was a certain level of anxiety in the lead up to last year's race weekend. Auckland city has a major events strategy that looks at these things very closely and it doesn't make a decision to invest time and effort lightly.
"We had a lot of people looking at whether we should do the event at all and there was a lot of public debate in the run up to the decision to go ahead," said Carroll.
"We had to trust the fact we had a really strong process and back-of-house, analytical look at everything around bring the race back to Pukekohe. We looked at the fan base, looked at the product, looked at the venue, looked the history of the category and the venue and decided it was worth a little bit of a risk.
"It was very much a calculated risk and one we were prepared to take. In year one we exceeded the GDP number we needed for it to be economically viable and we're looking at strong numbers again this year."
What sometimes gets lost in all the debate is that an international event was staged in the often maligned South Auckland and the local residents embraced it with open arms, Sure, it makes the most sense to have destination events in the centre of any major city, but if you have a venue and people willing to make it work, engaging with the wider community on the fringes of a city is no bad thing.
"You've got to remember we're not the owner or underwriters of the event," said Carroll. "We brought in V8 Supercars to take the financial risk for the event as it's not right for the ratepayer to assume that sort of risk."
Pulling your big girl's pants on and taking a bit of punt, which Ateed did in bringing the V8s back to Pukekohe, has proved to be the right decision so far and has helped put Auckland on the map as an international destination for a high-octane adventure.
V8 Supercars have always realised they needed a presence in New Zealand because of the fans' passion for the sport and couldn't be happier with the weekend's event.
"What an incredible event," said V8 Supercars CEO James Warburton. "People have voted on their feet and this is absolutely the right place for us to be.
"The Anzac weekend has been amazing with us assisting the RSA and them helping us. We're very delighted how the weekend has turned out."