Opportunity for skilled young drivers to get great start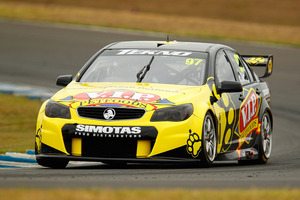 When you're watching touring car warfare at the ITM 500, there's no doubt that at some point you'll be picturing yourself at the wheel.
Now consider how these drivers made it to this top tier. Some have the blessing of financial backing to stump up for the kit. For the rest, there's not really an easy way.
One avenue open for skilled young drivers is the SpeedSport Scholarship. In its 13 years the scholarship has produced a number of drivers who have had the right stuff - like the 2004 winner, who will be racing today and tomorrow against the big boys.
Shane van Gisbergen is now up against some of the best V8 exponents in Australasia. Other notables to get their first taste of competitive open wheel racing via the scholarship include Richie Stanaway, Nick Cassidy and Andrew Waite.
Stanaway went on to win two national titles in Germany and recently signed on as a works' driver for the Aston Martin World Endurance Championship team racing in the GTE category.
He also announced this week he's done a deal to race for GP3 outfit Status in the GP3 championship.
Three-time New Zealand Grand Prix winner, and a past Toyota Racing Series champion, Nick Cassidy is another who benefited from the scholarship and is in Europe organising a deal to go racing on the continent.
The nationwide hunt is on again for the next annual scholarship recipient with former graduate and another winner, Andrew Waite, encouraging young drivers to enter. Finalists will race off at Manfeild in May to decide the 14th winner.
The winner receives an all expenses paid season racing a Formula First car under the guidance and tuition of co-founder Dennis Martin, a personalised race suit, boots and racing gloves from Chicane and a new Arai race helmet. On top of that, the winner will receive off-track tuition and mentoring.
"The SpeedSport Scholarship provided me with the perfect kick-start from my career in karting," said 2005 winner Waite.
"It's definitely one of the best ways to get into motor racing. It provided me with the basic skills and a very good foundation for my career. I would recommend budding racecar drivers have a go.
"Even to make the final selection and to go through the finals process is a good insight into what's required to be successful in this sport."
After his scholarship year, Waite became one of a very few New Zealand drivers to win a race in every single-seater category. He won in Formula First, Formula Ford and the Toyota Racing Series and competed successfully in Formula Ford and Formula 3 in Australia and Formula Renault Asia.
Waite raced V8 Utes in Australia and New Zealand winning the domestic title in 2011/12. He is now the lead driver in Steve Horne's V8 SuperTourers Tasman Motorsports Group, and a full-time driving instructor at the Highlands Park motor racing circuit at Cromwell.
Entries for the 2014 SpeedSport Scholarship can only be made online at speedsportscholarship.co.nz and entries close on May 10.
The finals will be held the following weekend.