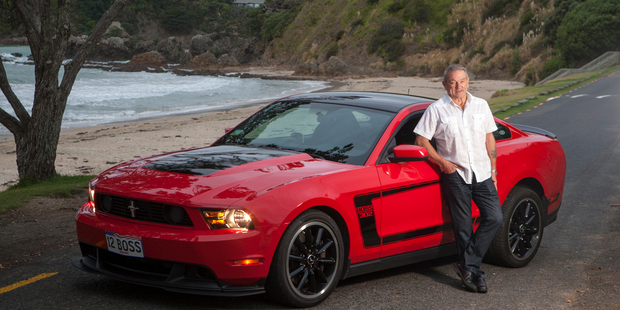 Clive Lonergan describes himself as 'probably the oldest teenager on the block' and 'top of the pops' real estate agent on Waiheke Island, near Auckland
What do you drive?
A Ford Mustang BOSS 302 Trackey, the racing version of the Ford Mustang. It's Race Red, bright red. It has two keys. The black one is 440 horsepower for normal driving. If you use it on the track or for drag racing, you put the red key in. When you put that red key in, Trackey is its registered name, it lights up on the dashboard that Trackey is activated. It's for track use only, it's not allowed on the road, and it puts it in racing mode and changes 200 components in the motor. It's special, only 3500 built for 2012, that's worldwide.
Why this car?
The power is superb, it has Recaro racing seats, and you're tucked in there nice and tight. I bought it in Miami. McCullough in Parnell brought it in, they are a one-stop shop. I paid them $12,800 which was the GST, the freight, customs, entry transit, code of compliance, port charges, inspection ...
everything. It's a left-hand-drive so I have to keep it four years and they have to be under 20,000, the amount manufactured.
What's the main consideration when you're buying a car? It's not economy by the sounds of things.
No, petrol is the cheap part of motoring; people don't realise that it is. I just buy cars that I like. They are always performance, I hate small cars.
What was the first car you owned?
That's probably why I hate small cars, it was a 1936 Austin 7 that I bought for £20. The diff in it blew and a mate and I fixed it. Not knowing much about them, we ended up with all these parts left over. We didn't know where they belonged but it still went, just a bit noisy.
Your dream car?
I do like the Ford Mustangs and I made inquiries in the States to buy a Mustang Cobra Jet but they make only 15 of them a year and for 2013-2015 they have all sold. For 2016, they wouldn't take a forward order because they don't know what is coming out. So I doubt if I would get one of those. They use them for drag racing but I was going to try to get it built in a configuration like what I have now.
Who taught you to drive?
My father back in the old days when I was 15.
Manual or automatic?
When it comes to high performance, manual. In my normal cars, I have automatic. I was that rapt in the Mustang that I bought a Ford Kuga for my everyday work.
Most memorable road trip?
Probably one where we did the whole of New Zealand. I had an XJ6 jaguar in those days, I drove down the West Coast of the South Island and up the east coast and back up to Auckland over two weeks.
How often do you clean your car?
I give it a dust over every week, I don't take it out in the rain and I keep it covered.
What do you listen to in your car?
Led Zeppelin, AC/DC ...
Do you judge people by what they drive?
Yeah, I do to a certain extent.
What irritates you most about other drivers?
Going slow and thinking they own the road.
Would you rather drive in Auckland or take public transport?
I do use public transport because I thoroughly believe in good public transport.
Who else is allowed to drive your car?
No one ... well, actually, my son (league legend Dean Lonergan) and daughter both have their names on the insurance papers.
Do you have a special number plate?
Yes, the kids shouted me 12BOSS with an American flag along the top.
As told to Donna McIntyre