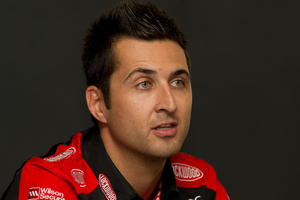 I can't believe a year has rolled around - and I am back home for my favourite event of the year - the ITM 500 Auckland at Pukekohe Park.
I try not to get too excited but there is no doubt that the chance to drive back in New Zealand, in front of Kiwi fans, with your family and friends being able to watch is really special.
For my team at Lockwood Racing, it's been a fantastic start to the year, certainly the best in my history. I was sixth overall last year which was my best until now but I had to recover from a quiet start.
One of the keys for me is to be consistent and we've managed to achieve that.
It will be challenging this year. There's an extra race this year on top of a tough programme. We get just 30 minutes of practice tomorrow, then 20 minutes of qualifying and the first 100km race.
Then on Saturday we have just 10 minutes qualifying for each of the two 100km races. And on Sunday there's the qualifying ahead of the 200km race which is the longest we have ever run at Pukekohe.
This race is the first time we've refuelled here too - and the format really allows for some different team strategies to play out.
It's going to be extra special with Anzac Day - with the three Kiwi boys - myself, Scott McLaughlin and Shane van Gisbergen taking it to the other 22 Australians in the field. We are all good mates but fierce rivals.
Bring it on.