Putting his foot to the floor gives Paul Davies a Bathurst-style rush.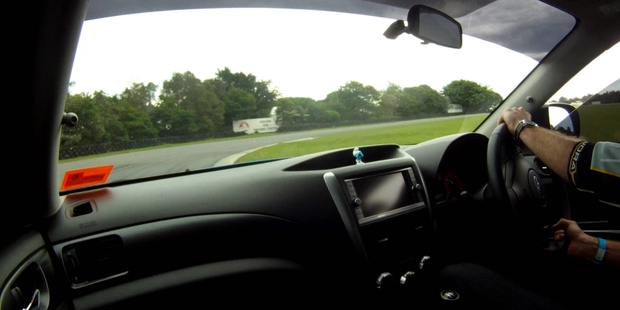 I've always been curious about Bathurst. Not so much curious about the actual event, but about the dedicated fans who sit and watch their beloved Holden or Ford race car dart about a 6km track for hours on end.
So when I got the chance to drive a V8 Supercar, I was excited not just by the fact that I'd be in charge of a ridiculously fast car, but also that I would finally find out what all the fuss was about, the chance to live out my own Great Race.
The V8 SuperSchool at the Performance Driving Centre in Norwell, Gold Coast, is a driver training school and a workshop for building Gold Coast 600 and other V8 Supercar competition winners. Visitors can race go-karts or get behind the wheel of a proper big Holden beast; when they're not hosting work parties and Christmas parties, they're hiring out stunt drivers.
I slip into racing car driver overalls (very macho) and hairnet (less macho), in preparation for a spin. Helmet on and we're away.
Once you've managed to snake your way through the rollcage and into the bucket seats, you're already sensing the power of this purposefully built machine. Chief instructor Steve Robinson, a former Holden V8 ute competitor, took me on a slow journey around the 2.1km circuit, pointing out where to accelerate, brake and change gear as highlighted by colour-coded cones on the side of the track.
Next it was my turn. The first lap was another steady driveby; I was required to repeat his movements precisely. With that lap under my belt and no orange cones nudged, I got the all clear.
It only took a slight push of the accelerator for me to feel the real, raw power of this beast at my control. Taking the corners exactly as I was shown, I stayed within my comfort zone for the second and third laps, treating it like a test in front of my teacher. Once he was satisfied I wasn't going to roll a car valued in the hundreds of thousands of dollars, he yelled at me to pick it up. No need to ask twice, pal. Though it's just a short circuit, we reached speeds of almost 150kp/h on the small back straight and clocked a best lap time of 1m 12s. The best drivers get around in about 1m 4s.
Apparently that was pretty good for a first timer. I hopped out of the car imagining with some confidence that I could have had a career as a V8 Supercar driver given half a chance. That was until, of course, it was Steve's turn to drive. It was then I realised what these cars are capable of, my head and limbs flapping around with virtual weightlessness.
The speed of a transition from full throttle on the straight to a tight hairpin corner was incredible and after three laps of this expert driving the adrenaline was flowing.
As a memento of my brief career I was given a USB stick to take home with footage of my performance taken from two pencams - one looking out the front windscreen and another looking back at the driver. It includes a speedometer and a stopwatch recording your lap times with a soundtrack of the instructor yelling at you above the roar of the V8 engine.
It's an incredible souvenir and although it might not be the best driving in the world, it's much more fun to watch than Bathurst.
OTHER SPEED THRILLS ON THE GOLD COAST
Sea World's new Storm Coaster: Get ready to go up, down and all around before finishing off with a splash.
Dream World's Pandamonium: This is a Kung Fu Panda-inspired merry-go-round on steroids. This swinging rickshaw ride has a split personality so make sure you pick the correct queue - one version swings you round while the other rocks you side to side, upside down and perhaps even inside out at 3.8 G-force.
Dream World's Giant Drop: Still the closest thing to a near-death experience I can imagine. At 119m, this is the tallest free-falling ride in the world and one of Dreamworld's original thrill rides. If you don't like the feeling of falling off the side of a 39-storey building, this may not be for you.
Jetboating: The waterways are perfect for skimming across with the wind in your hair. There are plenty of companies online offering rides with high-speed drifting, 360-degree spins and much more.
CHECKLIST
Getting there: Air New Zealand flies from Auckland to Gold Coast Airport.
Further information: See thedrivingcentre.com.au and visitgoldcoast.com.
Paul Davies travelled courtesy of Gold Coast Tourism.