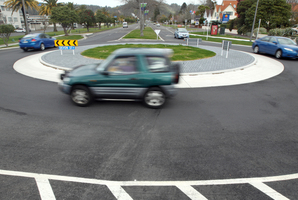 Idiotic road designs not keeping up with increases in traffic flow and causing crashes, injuries and a disturbing number of deaths came into the spotlight this week.
The New Zealand Transport Authority's release of the 100 most dangerous intersections is essentially an official admission that a lot of road design is not up to the standard it needs to be.
There's an interactive graphic showing this roll of shame on the Herald website (bit.ly/1eRBVUq) and it's quite shocking to look through it and see how many of these intersections we've seen near-misses at, and to think of how long these roads have remained unsafe.
Some drivers don't help - like the indecisive, the unskilled, the risk-takers and, of course, the perennially stupid. But even in a country with a reasonably high standard of driving, there's going to be a percentage of people that can't negotiate a supermarket carpark, let alone a busy intersection.
Road design needs to be continually examined and improved in order to account for these munters - not just considered a "fact of life".
My personal hate is roundabouts where there should be traffic lights. There are a couple of absolute doozies around Auckland that could easily rival some of the city's 45 intersections that made the black list - Royal Oak requires Victoria Cross levels of bravery.
The large two-lane job in Panmure is the perfect example of those mentioned earlier - it's confusing to those that can drive. It's made even more terrifying because those who can't figure out where to indicate and which lane to be in simply take the same approach as the French do at Place de l'Etoile - where 12 roads meet in central Paris - and barrel on through.
From the top 100 intersections there were 53 deaths and 445 serious injuries in a decade - and then there's the thousands of incidents that aren't deemed bad enough. We're horrified by these numbers, and want to hear what you think. How safe are our roads? Are roundabouts better than traffic lights? Which roads do you think need to be made safer? Tell us at below or on facebook.com/DrivenNZ