Andy McGechan talks to young riders gearing up for the big time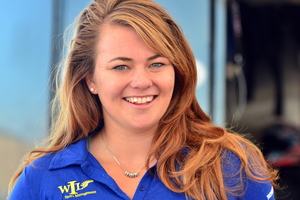 Europe is again beckoning the rising New Zealand stars of motorcycle racing.
The latest contingent of Kiwi racers to go overseas comprises Auckland's Connor London, Rangiora's Jake Lewis and Orewa's Avalon Biddle.
It makes perfect sense for these young riders to follow in the tracks of those who went before them in the 1980s and 1990s - riders such as Hugh Anderson, Graeme Crosby, Aaron Slight, Simon Crafar and Andrew Stroud - because the European race scene offers such fantastic opportunities for young Kiwis hoping to make it big on the international supersport and superbike race scene, perhaps even to eventually make it into the realm of MotoGP.
London and Lewis touched down in Spain this month and Biddle is at her new base in Italy.
All three are able to embark on this latest adventure thanks largely to support from internationally-recognised Kiwi company WIL Sport Management.
"We timed our arrival in Spain perfectly, the weather is just starting to turn towards summer," said London.
"The Spanish think it is cold, but it is perfect. As soon as me, Jake and [Jake's father] Rob Lewis arrived in Madrid, we began to head towards the Motorland Aragon circuit for our first test on our bikes for this season.
"I was on my Honda CBR500 [which he raced in the European Junior Cup last year] and pretty much felt right at home as soon as I put my leg over the bike.
"I'm really looking forward to the European Junior Cup starting and I am ready to come out of the box swinging."
South Islander Lewis sensationally won the Junior Cup outright last season, fending off strong challenges by young superstars from countries such as Spain, France, Italy and Germany.
He is now also in preparation mode, this year looking to step up and tackle the 600cc supersport class.
"It has been a busy time, flying out from Christchurch on March 4, having a 30-hour flight to Madrid and then being on track at Aragon on March 7 and 8 for the first test with my new team on the CBR600R Honda," Lewis said.
"We have just finished another two days testing at Valencia, so Connor and I are well up and running for the season opener at Aragon [in Spain, on April 13]."
Meanwhile, Biddle is pleased to be back in Italy and she is now well settled in at her base near Milan.
"I will be based in Bergamo, close to Milan," she said.
"Funnily enough it's the same place that WIL Sport mentor Fred Merkel, and also Rueben Xaus and Simon Crafar have previously lived in when racing world superbikes - I'm hoping there is something fast in the water here."
American-born Merkel was the first world superbike champion in 1988 and won the title again in 1989 before moving a few years later to settle with his family just outside Taupo.
Waiouru-born expatriate Kiwi Crafar raced superbikes and the 500cc GP championships with great success - winning the Malaysian Superbike Championship in 1991 and the British 500cc GP at Donington Park in 1998 - and he now works as a coach and mentor to riders in Europe.
"We will be doing a lot of testing," said Biddle. "Fingers crossed all goes well because the official CIV [the Italian Superbike Championships, or Campionato Italiano Velocita] test is next weekend at Imola, followed by the opening round of the CIV series at Mugello on April 4 to 6.