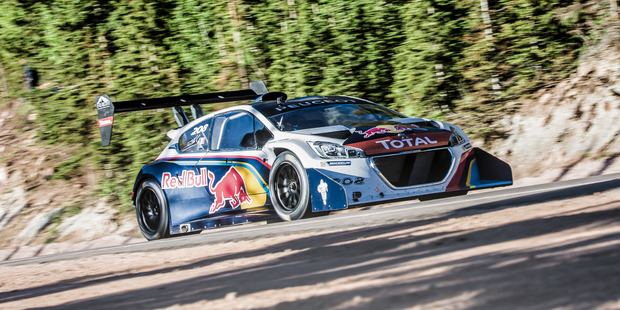 Nine-time World Rally Champion Sebastien Loeb has sights set on yet another record - this time the Goodwood Festival of Speed hillclimb.
The event in late June attracts luminaries like Porsche sportscar newbie Mark Webber, Audi legends Tom Kristensen and Emanuele Pirro and F1 champions Emerson Fittipaldi and John Surtees.
Loeb will drive the same 650kW Peugeot 208 T16 that he used to obliterate the Pikes Peak record last year. The record for the 1.86km course is held by F1 star Nick Heidfeld and was set in 1999 in the McLaren MP4/13 used the previous year by Mika Hakkinen to win the drivers and constructors F1 World Championship.
It's no easy task, but the Peugeot 208 is an absolute weapon, and if anyone is capable of taking the long-standing record from a Formula One car, it's Loeb, whose nine WRC titles include 78 rally wins.
He will also drive a car for Citroen, who he's racing for in this year's World Touring Car Championship.
Every year Lord March, the owner of the Goodwood estate, themes the event around motorsport teams or milestones - this year it celebrates the 50th Anniversary of John Surtees' 1964 F1 crown. The championship victory made him the only racer to win world titles on two and four wheels - which will be underlined with a display of 11 bikes and cars from his career, including the starring Ferrari 158.
Fittipaldi will drive a M23 McLaren from the 1974 F1 World Championship which he won; American Richard Petty mightn't be a record contender in the Plymouth Belvedere he drove to 27 NASCAR race wins in 1967, but compatriot Al Unser's Indy-winning 1978 Penske Lola-Cosworth could be a step closer.