White, silver, grey and black were motorists' top colour choices for new cars in 2013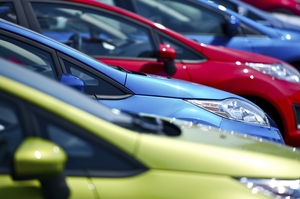 Forget about the bright, in-your- face colours everyone notices - it seems the average New Zealand motorist cares more for being plain.
While car companies such as Ford New Zealand released the Fiesta ST in eye-popping orange and Kia's Picanto came in the yellow hue of Honey Bee and bright green Lemon Grass , for most Kiwis the top colours for 2013 were white, silver, grey and black.
In the Asia-Pacific region, the trend that "white is the new black" continued last year with the pale hue the best selling colour in the Asia-Pacific region. A total of 26 per cent of all new cars sold in the region had the white coating, according to paint professionals PPG Industries.
Silver came in second with 20 per cent, followed by black with an 18 per cent share.
"While white continues to be the most dominant choice in car colour, we see growth in the variety of whites being offered to consumers," said PPG automotive colour manager Jane Harrington.
"Car manufacturers are seeking ways to create variations of white, silver, black and grey that are specific to their brands and complement different vehicle types."
In New Zealand, thousands of vehicles are shipped here every week with the majority coloured white, silver or black.
The choice of colour also reflected owners' desire to drive a car that had a premium feel to it.
Motor Trade Association communications manager Ian Stronach said people wanted to feel special when driving.
"People like to feel good about being in their car, so if it has a nice prestige feel, then it naturally makes many of those that own these cars feel good. That's why silvers, blacks and darker metallic colours have done so well," said Stronach.
When it comes to used car owners and fleet buyers, it's what is available for sale that matters rather than colour choice.
Resale is also an important factor when it comes to choosing a car. Bright colours - such as yellow - aren't popular, leaving plain and darker colours more sought-after and easier to sell on.
"They tend to follow the trends of new buyers, but also like to buy 'safe' colours in terms of its likely appeal to the next buyer when they sell," said Stronach.
"In other words they generally tend to follow the market in the belief that if it's popular now, it may well be popular when they go to sell it and they hope they will get a better price."
For car manufacturers, colour is also important and they continue to research which tones reflect the target buyers and their tastes.
Toyota New Zealand general manager of product planning , Neeraj Lala, explained how their new colour selection worked.
"It is very complex but entirely focused on customer trends. We have a huge data analysis cube that studies not only past Toyota sales but all competitors by colour," said Lala.
"We then study sales channels to make sure colours aren't skewed by fleet. For example, we sold over 8000 white cars last year but that speaks to the fact that we are a large fleet market."
Sometimes the sales statistics override what is expected by local dealers for the market.
However, 2014 forecasts more unusual colours to rise in popularity.
"A trend we have noticed in the past 12 months is bronze or a brown metallic has been a growing preference amongst private customers, but silver, red, blue, black, grey are still the most popular across most of the line-up," said Lala.
According to Hyundai New Zealand general manager Andy Sinclair, brown has also proved to be popular for the Korean brand.
"It is becoming an increasingly popular colour in a number of markets, and in a number of segments." said Sinclair.
While the popularity of these colours is starting to establish new trends, Lala thinks car colour selection is down to the customer's personal preference.
"The biggest selling colour is different by customer. For us, silver and red will still remain the most popular as most new car buyers still consider the higher resale value and silver or red are best options for that."
With the premium end of the market, silver and black are still selling strong.
For BMW Group NZ, colour is important for their fleet that includes the premium BMW brand plus the more youthful Mini vehicles.
"Colours signal the intent of the vehicle," said Edward Finn, BMW Group NZ's communications manager.
" Our mainstream products adopt more conservative colours whereas our performance cars are offered in more unique colours."
Audi NZ marketing co-ordinator Kushla Glauser said grey could be the most popular colour this year.
"There are exclusive colours that are limited to some models. For example, matte paint is available in RS models through the Audi exclusive paint channels," she said.
"Daytona Grey will be very popular in 2014 as this colour suits our range of sports models."
So 2014 could be the year of grey power when it comes to cars in New Zealand.