EC wants EVs to be heard for the sake of safety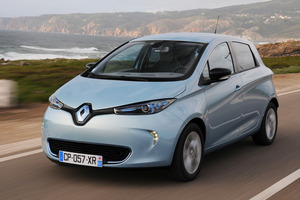 An artificial "vroom" will be fitted to electric vehicles under plans to make them safer for pedestrians, cyclists and the visually impaired.
The European Commission plans to make manufacturers install Acoustic Vehicle Alerting Systems (AVAS) on all new vehicles amid concerns they pose a risk to vulnerable road users.
This is because the cars are effectively silent, particularly at low speeds, and people cannot hear them.
While there are no recorded incidents of EVs in serious collisions, there are concerns they could pose a significant hazard.
EC Transport Minister Leo Varadkar said Ireland had progressed the plans during its term as president of the European Council because of safety issues.
"The Road Safety Authority chaired the working group meetings at which this proposal was progressed," he said. "Early in the discussions, Ireland made a submission that hybrid and electric vehicles would require the mandatory fitment of AVAS.
"Other member states were supportive ... and by the end of the Irish presidency a consensus was achieved which requires vehicle manufacturers to install AVAS in new types of vehicles within four years and then to all new vehicles within six."
It is expected the regulations will be adopted before the end of the year. They set out what an AVAS is, that they will apply to EVs and hybrid electric vehicles, which use both an electric engine and petrol engine.
"The sound should be easily indicative of vehicle behaviour and should sound similar to the sound of a vehicle of the same category equipped with an internal combustion engine," the regulations stipulate.
Renault, which manufactures EVs, including the Kangoo ZE and ZOE, which will be launched in April, said its vehicles had a choice of sound systems fitted as standard, including "sport" and "pure".
So far this year, 65 EVs have been sold and another 362 hybrids.- Irish Independent