Citroen has all the ingredients for chef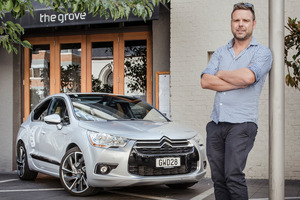 What do you drive?
A Citroen DS4, manual. It has so much power, it revs up like a caged tiger. I'm getting some springs in and we're lowering it. It's fast and compact, a great town car. We have two restaurants, The Grove and the Baduzzi, and I use it as a work car but I also can put the dog in the back or take the kids to the beach. It's super cool and has all the features. And I think it matches the cuisine I cook, classic French meets modern New Zealand.
Main consideration when buying a car?
I love my cars, I look for value for money so when I bought my wife a car I went for a BMW X3 that was a couple of years older than a brand new Japanese car. I look at how much I can afford and go up to that limit.
First car you owned?
I took a loan from my Pop that I had to pay back with interest to buy a 1990 Ford TX3 hatchback; I had it for a couple of years. I went straight to a really nice car from school.
I loved that car.
Your dream car?
A vintage Porsche, I reckon the 911 between the years of 1990 to 1995. I'd love to restore one.
Favourite colour?
Depends on the car, but I tend to prefer darker colours.
Who taught you to drive?
My really patient father, Graeme, taught me to drive on the farm at Te Kawa in the Waikato in his old Toyota Corolla.
Manual or automatic?
I definitely prefer manual. But in Auckland manuals can be hard on the legs, constantly edging forward in the traffic so, while I prefer manual cars, an automatic in Auckland would be more fuel efficient.
How often do you clean your car?
Because I use my car for work, it gets thrashed so I let the pros do it about once a month, a real $150 job. When I'm travelling, I park my car at Air New Zealand and they do an awesome job of detailing. And when I get it serviced at Citroen they get in someone who gives it a cut and polish. That's a different level of service, it takes out the dents and scrapes on the mags.
Most memorable road trip?
I was in Las Vegas for a few years and a friend of mine, Brad, a professional golfer came to stay and we drove a 1964 MGB convertible - that was my car in America - from Nevada to the Grand Canyon. The cars in America were so big and it was like driving a sewing machine engine alongside them at 50mph (80km/h) and sometimes 70mph (112km/h). We had to keep the top down as it was too hot to drive with it up. It was an awesome experience; we could smell the engine oil of that vintage car.
What do you listen to?
In the morning, live and talkback radio on my way to work, in the evening hip hop, Tupac or old school CDs from when I was a teenager, and I have a nostalgic vibe going on.
Do you judge people by what they drive?
Absolutely not.
Who else is allowed to drive your car?
It's a $50,000 car but I'm not precious about it. My chefs can use it.
Bike and cars ... is there space for both on NZ roads?
Of course there is. I think it's all about respect. I don't use public transport; biking or cars is my way. If I have just done a 16-hour day, I would rather drive 20 minutes in my car than sit on a train for 45 minutes.
As told to Donna McIntyre