Bargwanna stays ahead in spite of slip at Taupo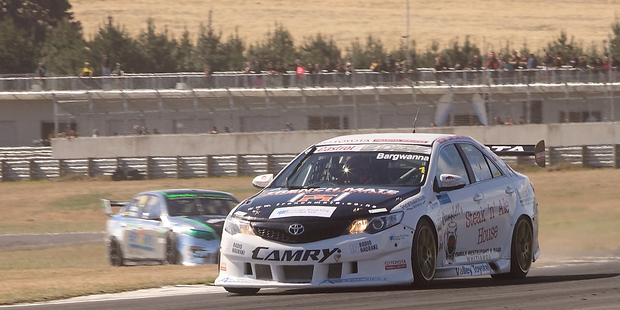 Defending NZV8 Touring Car champion Jason Bargwanna was slapped with a drive-through penalty in the second-to-last round of the Kiwi series after turning title contender Nick Ross around.
It's quite ironic that the former Bathurst winner was ruled to be in the wrong - because Bargwanna is the V8 Supercars' driver standards officer.
The Aussie's Toyota Camry touched Ross, who spun off on to the grass and had dropped to fourth by the time he got back on the track.
Bargwanna admitted if he'd been in his day job at this meeting he would "absolutely" have penalised himself.
"It was my mistake. I had a bit of a run on him and I had a bit of a look going into the corner, but I wasn't in a position to challenge him.
"Then the rear brakes locked up and I hit him. I didn't mean to tap Nick - I didn't need to," he added, referring to his points lead in the championship.
Ross carried on to win with Bargwanna second in spite of the penalty.
Bargwanna left Taupo with a hefty points lead heading into the last round at Pukekohe during the V8 Supercars weekend on April 24-27, but he had his work cut out.
As well as the penalty, Bargwanna took a heavy hit from Shaun Varney on the opening lap of Sunday's feature race. Both cars spun off with Varney out of the race and Bargwanna rejoining dead last with a big dent in his right rear door.
Bargwanna monstered his Toyota through the field and after the compulsory pitstops found himself just in front of Ross. Keeping it clean and smooth, the Aussie retained the lead to the finish line.
His strategy of taking his pit stop late in the race worked better than Ross' earlier stop.
Ross came out behind a bunch of the slower TL (original-specification) cars and lost time fighting his way through them.
"We've had to do it the hard way," said Bargwanna. "I was a bit disappointed about getting hit like that but that's racing. There's one more round to go and we'll be focusing on each race and letting the championship look after itself."
Ross acknowledged that the Camry was now quicker, although the two cars had been evenly matched earlier in the championship.
"We need to find another second a lap," he said. "We've got a test session booked at Pukekohe."
Lance Hughes was third for the round in the TLX (new-generation) category, driving the Commodore in which Bargwanna won the previous championship.
The TL category saw three different winners - Bronson Porter, Brad Lauder and James McLaughlin. Lauder had been challenging for the championship but lost vital points when he was unable to start the final race. McLaughlin's victory in the feature race was noteworthy as he was unable to afford the new tyres that most of his rivals were using.
Jamie Conroy was chuffed to have won the New Zealand Formula Ford championship at his first attempt, with clear victories in all three races at the final round of this series.
"The car was good, it was easy to put the times in," he said.
Before this season Conroy had only raced at club level but he has dominated the Formula Ford championship in a manner seldom seen in this category. He was beaten only twice in the 18 races.
Jamie McNee won the round for the Toyota Finance 86 championship with a win, a second and a third, and ended with a 125-point lead over Callum Quin, who scored his first victory in this class.
Tom Alexander of Christchurch had been second in the championship but dropped to fourth after he was disqualified from Sunday's race for hitting Andrew Waite, who won the final race. Ashley Blewett is third with one round to go.
Points after
five rounds
Category TLX (new generation
cars)
1 Jason Bargwanna 1026
2 Nick Ross 957
3 Lance Hughes 827
4 Shaun Varney 675
Category TL (original spec cars)
1 James McLaughlin 809
2 Ian Booth 798
3 Brad Lauder 738
4 Bronson Porter 679