Swedish brand shakes staid image with road version of Supercar charger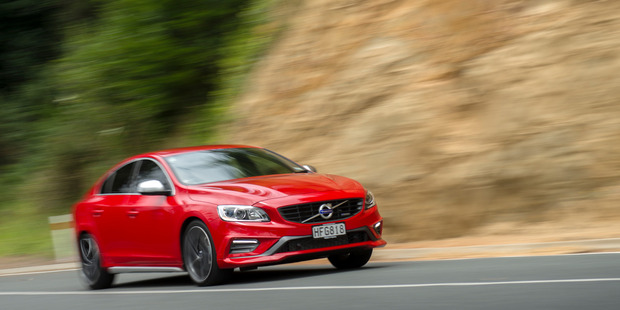 Despite having a solid track history, the name Volvo is more likely to conjure up images of tweedy families with 2.5 kids, safety obsessives and big, square boxes of bore. But now the Swedish brand is making its mark on the V8 Supercars championship, its image down at this end of the world is set to be sharpened.
The company's once-staid range has been bolstered over the past couple of years by models that shrugged off the beige image with retina-searing paint schemes and performance cred.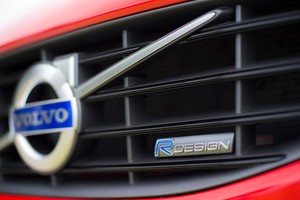 And young Kiwi flyer Scott McLaughlin's performance at Adelaide's Clipsal 500 last weekend has served to give Volvo a bit more hair on its chest.
At the top of the heap of the V8 Supercars donor vehicle is the S60 T6 R-Design, driven not by a bent eight but by a three-litre six force-fed by a twin scroll turbocharger - adding up to 242kW and 480Nm of Swedish meatball.
That means a 5.7 second bolt to 100km/h, with all-wheel-drive grip helping to keep it all, in true Volvo style, safe and straight.
The R-Design badge adds the bling, with a stylish body kit, seats, paddle shifters, and sports pedals as well as upholstery and gauges that define it as the hero model.
It also gets a different chassis spec, with a far tighter feel than other vehicles in the range.
The test model did get a few extra bits and pieces, including heated seats, front parking sensors and keyless entry as well as the 19-inch wheels.
This bought the total package to $89,420 plus on-road costs. The go-fast HEICO kit, which includes a fat exhaust system, adds another $6750, a few more kilowatts and a sweeter soundtrack.
A price tag closing in on $100K does make it a premium package, but that's the point.
However, even in standard form it's very well specified, with Volvo's City Safety system, which includes crash avoidance up to 50km/h, Bluetooth with audio streaming, a comprehensive navigation package and rear parking camera.
On the road, the T6 does feel weighty - something that appeared linked more to the invasiveness of its traction control systems than anything else. A quick prod of the skiddy tyres button removed a lot of this computerised second guessing, and took the S60 from feeling like a porky rep mobile to the stroppy AWD sedan that its spec sheet promised.
Heavy steering and the sheer size of the S60, with traction control playing its full repertoire of driver aids, don't do wonders for the overall feel, but will suit most buyers.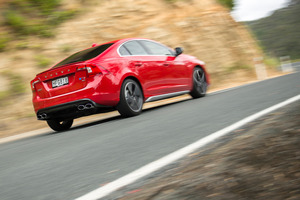 Those who are buying into the T6's Polestar pedigree will be more likely to derive enjoyment with aids backed off. It does feel weighty starting off, but, once into the groove, it's a simple machine to swing around, the four wheel drive system shrugging off understeer and enabling the corner-to-corner sprints that make our roads more fun than the powers that be like them to be.
It's a beautifully built machine; our test car wore a stunning understated shade of red, giving a racy look without being rabid rosso.
The interior is equally impressive, and the Volvo user interface for infotainment and car set-up is an extremely intuitive system that even the luddites among us could get a phone paired to without resorting to the manual.
The gauge cluster is a particularly alluring piece of crystal TFT work that changes depending on whether you're pottering around in auto mode trying to match the claimed 10.2L/100km, or if you've flicked the shifter across to the sporty gate for a sportier gait, when it lights up with more focus on the information you need when you're letting the S60 off its leash.
Despite the Volvo being little more than a shell for its supercar ambitions, this Polestar-tweaked saloon is something special.
The marketers say McLaughlin's early success in the car will have people running into Volvo dealerships to test their V8 Supercar skills, but at the end of the day this is a vehicle that can stand happily on its own merits.
It's a quirky brand, sure, but it's well worth a look for those wanting to get into something that's big, fast and brash without looking like a race car clone, and that can be as well-mannered or obnoxious as the driver wants it to be.
Whether you're a longtime fan of such Volvo race classics as the Flying Brick or the BTCC station wagon, or you're new to the brand and want a nice balance between safety for the whanau and savagery for those country road missions, this car is definitely going to help Volvo plot its path away from the staid image of a sensible Swede.