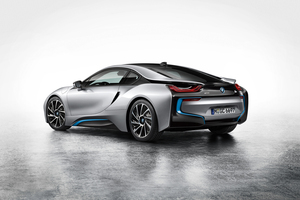 BMW is planning to roll out new-generation carbon-fibre wheels which are stronger and safer than conventional alloys.
The wheels are between 25 and 30 per cent lighter than those made from aluminium. Thanks to reduced rolling mass, they can help to reduce fuel consumption, the carmaker says.
Developers say concerns the black carbon-fibre wheels might not be sufficiently robust are unfounded.
BMW says the wheels are more resistant to minor everyday kerb damage than their alloy equivalents. Blemishes can also be polished out more easily.
BMW is already using carbon fibre in its new i3 all-electric runabout and i8 hybrid sports car.
The Munich-based carmaker has invested heavily in the German SGL carbon-fibre company, in which it has a substantial stake.
- AAP