The Central Plateau is full of memories for Paul Charman and his passengers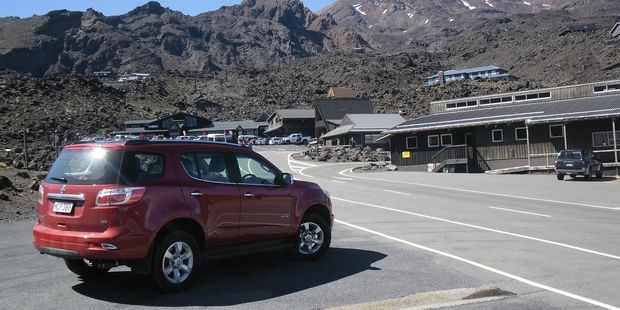 Some sit tight and soak up the 1930s vibe when visiting the Chateau Tongariro but others want more adventure.
On a three-day family holiday on Ruapehu we discovered some great wheels to deliver that adventure.
Hikers, bikers, diners and history buffs are spoiled for choice on Ruapehu and even months ahead of the first winter snowflakes falling on the Whakapapa and Turoa Skifields you'll have a great time there.
My wife, Debra-Rose, in-laws and I had a wish-list, including hearing Ian Robertson play his grand piano before retiring from the Chateau next month; coffee at the Knoll Ridge Cafe - the highest in New Zealand; climbing to the Crater Lake; soaking-up history at Horopito (Smash Palace); cycling the famous Ohakune trails and a nostalgic trip to the Sunshine Railway Settlement, Taumarunui.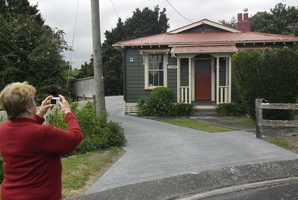 As a train buff my ideal would not have been a car at all. But once it drops you off at National Park, the Northern Explorer - the last passenger train on the Main Trunk - leaves you high and dry as far as transport goes.
So in order to get around, we'd need a "family car", and a special one at that.
It had to have torque for the hills; road-holding to counteract long-drive fatigue; performance for those short Central North Island passing lanes; comfort for the oldies, copious luggage space, and - you never know - ability to off-road if need be.
Driven's assistant editor, Liz Dobson, suggested a Colorado 7. Schofield Holden lent us one and it worked a treat. This SUV must have been designed for people (like me) who normally hate them. Unlike the long-wheel-base behemoth I hired to do a story in Whangamomona last year, this 4X4 had plenty of road feel. Only when making full-lock-turns did I remember I wasn't in a car.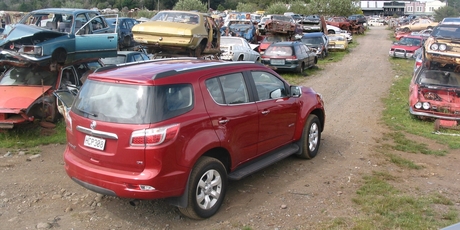 Although a seven-seater, we left the two rear seats down in the boot and that gave us vast luggage space, plus high-on-the-road visibility and a smooth ride. The backing camera worked well but a satnav, which this car didn't have, would have been nice.
Quite late on Thursday evening my in-laws climbed on board and were soon riding comfortably. Refined (for an SUV) suspension and truly awesome climbing ability encouraged mixing-it with stock trucks on the lonely roads between Te Kuiti and Taumarunui. Long after dark we were still passing everything safely.
Arriving late Thursday night, Robertson was playing the World War II standard Sentimental Journey. His romantic style has been part of the old-time-elegance of the Chateau for years. Resting in that gorgeous lounge and listening to the piano is the best time. Whoever comes next will have legions of fans to win over.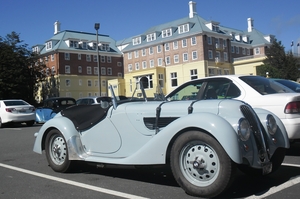 Many of these include classic car rally enthusiasts, such as the vintage Bugatti and BMW owners who were soaking up the vibe while we were there.
But ticking off the rest of the list wasn't quite as easy.
Winds were too high for the Waterfall Chairlift to take us to the Knoll Ridge Cafe, although we still had unforgettable walks on the mountain. Clear-day vistas as far as Mt Taranaki provided the best photos, that day - an experience marred slightly by Debra-Rose slipping and spraining a wrist.
Horopito was as charming as ever. The country's most famous wrecker's yard, which featured in Smash Palace and Goodbye Pork Pie captivates every petrolhead tourist. Sometime during the mid 1940s Bill Cole arrived in town and established a motor garage and repair shop. Bill's philosophy was that when a car came into the yard for dismantling, whatever parts weren't sold would stay there. Nothing was scrapped, which explains the vast collection of parts and car bodies there today.
The Old Coach Trail cycle track, from Horopito to Ohakune, looked a bit much for inexperienced cyclists such as we are, but we pedalled along an excellent track which was much less demanding.
That left our "sentimental journey" to Taumarunui.
The well-named Sunshine Settlement, high above a stunning view of the Whanganui River, has fine examples of Kiwi railway houses. Coral, my mother-in-law, located her family's railway cottage and delighted us with tales from days when she and her brothers, Brian and Terance Wakelin, grew up there.
Back in Auckland, we awoke at 2am on Monday when my wife realised that her sprained wrist was actually broken.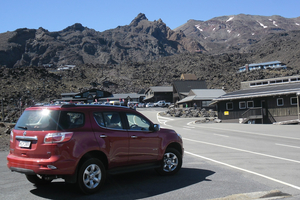 Later that morning, as I handed the car back to Schofield Holden, I realised this fuel-efficient wagon had provided a comfortable trip to Central Plateau; been a time-machine to the past and served as a late-night-ambulance ride to A and E.
What more could you ask from a family car?

Ruapehu Alpine Lifts is to run a three-day Gravity Festival on Bruce Rd, from March 7-9.
Pitched at experienced long boarders and drift trikers, the event will begin at the Top o' the Bruce and snake 6km down the winding Bruce Rd to Whakapapa Village - a drop of nearly 500m.
The public will be allowed to test their skills on the gentle slopes at the top carpark, says RAL organiser Alastair Haydock.
To contact Gravity Festival Registration, send an email to clearmouth@mtruapehu.com