Charity drive in rare car proud family tradition, writes Jacqui Madelin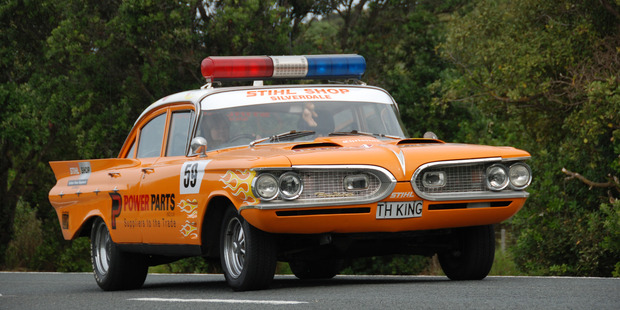 Judy and Peter Leishman and their 1959 Pontiac Laurentian are a fixture on the Variety Trillian Bash, the road rally that raises funds for Variety - The Childrens Charity.
It aims to give sick, disabled or disadvantaged children a helping hand "to be the best they can be", and Peter has been involved since 1995. He was then in the army, which supplied technical backup as a training exercise on the seven-day event, repairing cars if needed.
"I decided I'd rather be on the other side of the fence," said Peter, so he and Judy bought an untidy 1965 XP Falcon.
Participating cars must be classics, or otherwise attractive to kids - hence the many fire engines involved.
The couple "weren't really into classics", said Peter, though they always had a rally car in the garage - their current one is a 1968 Ford Escort.
But "two guys who worked for me in the army were keen, so we rebuilt the Falcon in two months.
We were MIG welding on New Year's Eve".
Judy joined him in the Bash in 1997, and they've taken part ever since.
The Ponty arrived in 2002, after the Ford blew a gearbox 2km from home. It was in good running condition, and the couple - who own and run the Stihl Shop in Silverdale, repainted it Stihl orange and put a chainsaw on the roof.
Teams must pay a hefty donation to Variety to take part in the Bash, which delivers grants and equipment to children along the route, helping keep participants motivated. Most fees come from a mix of fund-raising and sponsorship.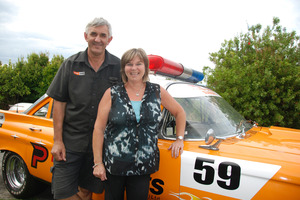 "A few years ago Power Parts got involved," said Peter. "It's a supplier to mower and hire shops, doesn't deal direct to the public, and wanted to do something for charity. At Christmas, instead of sending gifts to clients, it makes a donation.
"Of course we cover our rally costs, but it pays most of the entry donation, and the rest comes from trade-in mowers - we exchange a fixed and fettled trade-in for a donation to Variety."
The car has had a fair bit of fettling. The 5.7-litre Chevrolet engine was warmed up by Gary Peterson of V8 fame, and is matched to a turbo 400 transmission.
The car has front vented disc brakes and rear discs, braided fuel lines and a nine-inch diff, power steering and Holden suspension.
"It was all done before we got it, and it's not the purest car," said Peter.
A motor racing guy put the Stack dash and Terra trip in, with its digital info and all the switches. There are roof lights and sirens, and of course the rocket ...
Judy loves driving it. "It handles beautifully for a big old car, and it sits really well through the twisty stuff. It's heavy, but it's got power steering and good brakes."
The Ponty's been nicknamed Christine since a run of hiccups that should have been worse ... it broke a rear axle, and a year later, a wheel came off on the straights near Miranda.
Then the starter motor failed. They got the car to the night's stop and found another team was carrying a spare! Judy was driving near Blenheim when the rear wheel bearing collapsed, "there were only two spares in the country and one was at Repco in Blenheim ...". And the wiring always has gremlins, it wouldn't be a Bash car if something wasn't playing up.
"They go a long way on rough roads, but in general, and given the distances we do ..."
The team's theme is "Where's Wally", Judy's sister-in-law made the costumes - and uses them for the Cancer Society Relay for Life in Palmerston North. They're easy to wear, and one size fits all so they get couriered up and down the country.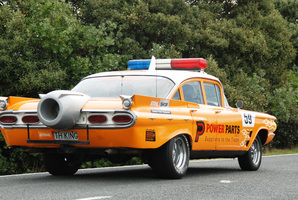 The Ponty has been from Bluff to Cape Reinga entertaining kids, delivering grants, and shaking fundraising buckets. "With the Bash you get to go places you would not otherwise, sometimes using station and forestry roads otherwise off limits to the public." Is that why they keep doing it? "It's the combination of classic cars, the camaraderie and the fun atmosphere. And when you realise you have two healthy kids with no problems, and you see people struggling, any little thing you can do to help then is a bonus."
This year's Variety Trillian Bash leaves from Auckland's Rainbow's End on March 16, then heads south through Waitomo, across to Rotorua and on to Gisborne and the East Cape, to finish at Tauranga. Catch up with it throughout the day on www.facebook.com/VarietyNZBash, or links to film clips and to donate to the team, www.bashnz.co.nz.