Bright stepspeed MG a real road star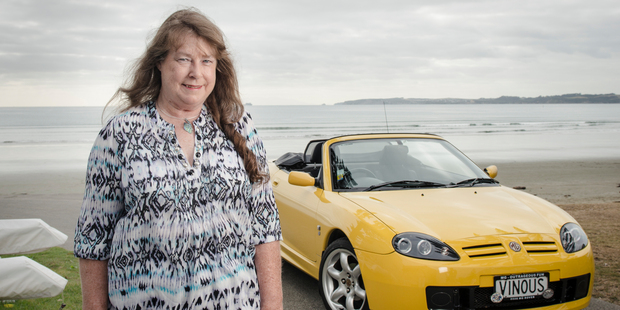 Sue Courtney, editor of the MaG for the MG Car Club (Auckland Centre), talks about her passion for MG sports cars
So let us guess ... you drive an MG?
It's a 2003 mid-engine MG TF 120 1.8i stepspeed roadster in Trophy Yellow, 1800cc. I love that NZTA has put "Roadstar" on my licensing label. It was a replacement for my 1997 MGF. The stepspeed gearbox was very attractive as my knees were problematic. The car has star quality. The bright colour stands out in a crowd - but most importantly it stands out on the road. Especially on the open road, it seems to hug the tarmac and glide effortlessly around bends. And it is so easy to go "topless". It's another terrific sports car in a long line of MGs.
First car you owned?
1963 VW Beetle.
Your dream car ...
The other MG TF, the MG TF Midget, produced 1953 to 1955.
Favourite car colour?
Um, yellow!
Who taught you to drive?
My mum taught me to drive a car after my youngest sister (seven years my junior) went through a defensive driving course at secondary school and was in danger of getting her licence before me. I already had a motorbike, though.
Manual or automatic?
I really like the stepspeed gearbox of my TF 120 as it can be fully automatic in the city, I can put it into sports mode to give it extra power whenever I need it and I can put it into manual mode to control the gears on winding hilly roads.
Do you have a special number plate?
VINOUS. I have a passion for wine appreciation, too. I have a website wineoftheweek.com and I do a little wine writing. It pays for my petrol.
Most memorable road trip?
I love road trips and VINOUS has been to Cape Reinga and Bluff and both sides of each island and most of the roads between. One of the most memorable has to be the Hakataramea Pass in the middle of the South Island, which we've driven twice now from the Kurow end. There's gravel, gates, fords and isolation, but cresting the pass at 940m to the vista of the Southern Alps and Mt Cook as its stunning centrepiece and the Mackenzie Basin as its platter is unforgettable.
How often do you clean your car?
The car gets cleaned inside and out regularly and polished occasionally. Even the engine bay gets a going over once or twice a year. Being yellow it shows every spot of dirt. It's done almost 140,000km and I still get comments on how it looks like new. Most of the credit goes to my husband, Neil. With a soft top it's a good idea to protect the hood with a car cover and the seats with sheepskin seat covers.
What do you listen to in your car?
Queen's Greatest Hits has been known to reside in the CD player for months between long trips. It vies with Pink Floyd's Dark Side of the Moon.
What's a great day trip out of Auckland?
Maukatia (Maori Bay) at Muriwai via back roads that no one else seems to know about. I love the drive there, walking on the beach around the rocks at low tide, watching the surfers from the car park, visiting the gannet colony and the sunsets.
Do you judge people by what they drive?
Never. Besides I don't know what their "other" car is.
What irritates you most about other drivers?
People who drive consistently below the speed limit when there is nothing slow in front of them and they won't let you pass, and people who follow too closely. And, texting while driving.
Would you rather drive in Auckland or take public transport?
As I live in Albany I will take the Northern Express if I am going into the CBD during business hours. Otherwise the car wins every time.