UK writer John Simister drives Volkswagen's state-of-the-art hybrid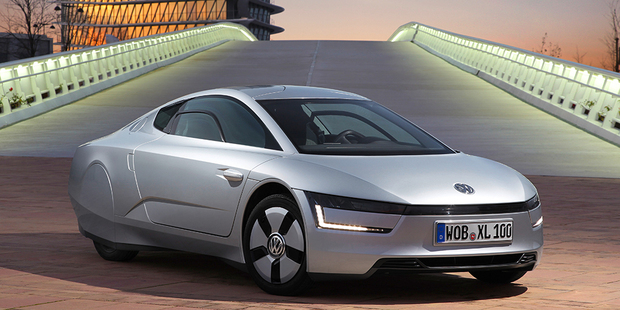 Cue spacy sci-fi soundtrack. The scene is a city suburb, the time not yet reached but within conceptual grasp. Straight dual carriageways laid out in a grid, linked by roundabouts and oddly free of restrictive speed limits, mark out some planner's vision of a car-dependent Utopia.
A silver, pod-like individual-transport module appears in the distance on the far carriageway, shaped something like an old-fashioned car but smaller, lower, narrower, sleeker. We, too, are in a similar silver pod and our view aft is via a pair of high-resolution, iPhone-like screens set just below the forward edges of the side windows. Rear-facing cameras just above and behind the front wheels capture the images with surprising clarity.
So, where are we? Milton Keynes, probably the closest Britain has to a future city and the home of Volkswagen's UK importer. And what are we in? A VW XL1, the most economical car there has been, despite a 160km/h top speed and an ability to nudge 100km/h in 12.7 seconds. It's a real car, albeit a cosy one with only two seats.
This XL1 is no concept car, but it does represent a serious research and development project for Volkswagen. An initial batch of 50 is already on the roads, and 200 more are to be built of which the British importer hopes to offer 20 or 30. The price of early adoption is high, at around £94,000 ($188,000).
So, what would you be adopting? Something as state of the art as a car can reasonably be. It's a plug-in hybrid, of course; that's a future-facing must-have. Its structure is carbon fibre injected with resin at high pressure in a mould, one reason why it weighs just 795kg, while the front tyres are as skinny as a Citroen 2CV's, helping its aerodynamics.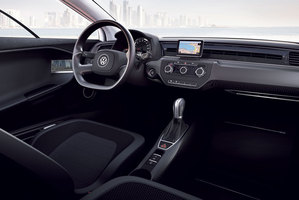 The engine is mounted behind the cabin, in a unit with the electric motor and the seven-speed, double-clutch gearbox, which can work only in XL1-knows-best automatic mode. You might expect the engine to be a rough, vibrating thing given that it's an 800cc turbodiesel with just two cylinders, but a balancer shaft keeps the 35kW flowing with decorum. The electric motor provides a further 20kW, enough to zoom the XL1 for up to 50km on its own if the battery is fully charged. The motor can also add to the diesel's efforts when you want to accelerate hard, the combined outputs touching 51kW.
Now, the vital numbers. On the official tests, the XL1 scores a scarcely believable 0.9l/100km with a 21g/km CO2 output.
The lightweight doors with their polycarbonate windows open upwards and forwards. I settle into the driving seat and pull the door closed, taking in a dashboard made from lightweight, plastic-covered wood fibre and a set of pure, simple instruments and switches. Some are recognisable from other VWs, apart from those indicating electricity consumption and reserves. I press the start button and, noiselessly, we're ready.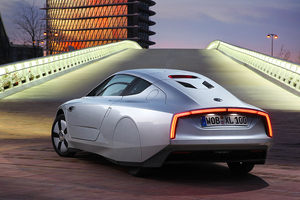 We swish on to the road, various harmonic whines indicating electric activity aft; the engine joins in without the slightest jerk as we accelerate harder. At cruising speeds, the engine runs very slowly but there's plenty of acceleration available.
Despite the lack of power steering, unnecessary in a light car with narrow front tyres, the XL1 feels responsive when a roundabout inevitably arrives. It's fun to drive in the way a small, light car should be.
That sci-fi future is clearly sliding towards us. If this is how small cars will be, then it can't come a second too soon.
VW XL1 may yet hit NZ
The prospect of seeing a Volkswagen XL1 on New Zealand roads now looks rosier.
Volkswagen New Zealand national marketing manager Michael Cope told Driven that
while nothing was set in stone, it would not be surprising to see the XL1 car on New Zealand shores.
''We are currently in negotiations with Volkswagen and hope to bring this revolutionary
car for sale in New Zealand,'' said Cope.
While aspects of the XL1 are already available on mainstream Volkswagen models, such as the seven-speed DSG gearbox, Cope says it would not be surprising to find the fuel-saving features from the XL1 moving into big sellers like the Golf.
''If you compare the fuel figures of 0.9l/100km for the XL1 and 3.9l/100km for the 77kW Golf TDI, it would not be surprising to see this happening within a number of years.''
-Independent