Jacqui Madelin has a blast on the light and capable Randonne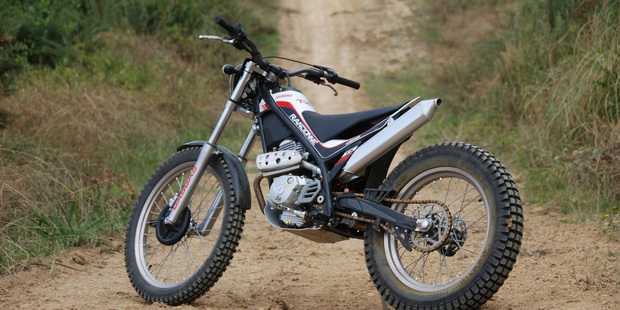 Spanish brand Gas Gas is rapidly developing a profile in New Zealand, underlined by a flying visit by export area manager Juan Gassol, who includes the UK, Japan, Australia and South Korea in his extensive portfolio.
Until recently best associated with its trials bikes, Gas Gas is now fronting the charge with its range of two- and four-stroke enduro machines - road registerable cross-country racers.
But sneaking under the radar is a trio of more unusual bikes - two electric mini-machines designed for young kids to blat round the garden without annoying the neighbours, and this Randonne, a road-registerable model that builds off the company's long-standing trials success to create an entry-level machine designed to tackle a city commute, a club trial - or an assault course on any piece of abandoned industrial land, though in New Zealand it's more likely to hit the trail.
Immediately obvious is how light this bike is. It tips the scales (dry) at 86kg, and not much more with the four-litre fuel tank and oil filled.
And it's low. Unlike traditional trials models it does have a seat, which easily removes for trials. But even with it fitted the Randonne is designed to be ridden off road from a standing position, with that pew only good for short on-road commutes (yes, I did try it) or brief rests on the trail.
It took a couple of circuits of Moto X Central to get the hang of riding it. Like a trials bike, the gear lever is set a long way from the footpeg, as when you're rock-hopping you don't want to knock it out of gear.
The aim is to select a mid-range cog for your average pace, then control it largely on the throttle - as removing your foot from the peg to change gear at speed puts you off balance.
At first it feels counter-intuitive, but once you get the hang of it, it's a blast; not because you're achieving high speed but because it's so controllable at a moderate pace, and that suspension is just so good.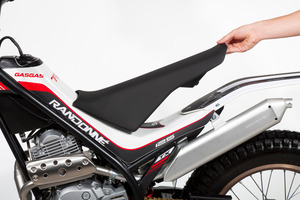 Entry-level trail bikes that cut under seven grand usually use cut-price suspenders which pogo and skip over the sort of lurid lumps and bumps our enduro test course boasted. But not the $6995 Randonne, which proved supple and compliant, keeping the grippy Pirelli trials rubber to the ground and swallowing a landing over a short jump with an ease that left me feeling like the expert I'm not.
False modesty? Nup. It was pointless my hauling a stepladder to the enduro machines, for I'd not manage the pace they're designed for - nor could I fully evaluate the
raft of changes 2014 has wrought.
The frame alone is 2kg lighter, via smaller tubes and a modified rear subframe. A new flywheel and stator slim the motor, there's a lighter, higher-flow water pump, a new cylinder head and combustion chamber; Juan Gassol says "the work on the engine alone saved 1kg".
The EC 200 gets all those changes plus a different exhaust, the EC 125 more power, the EC 300 and EC450 four-strokes "significantly more bottom end" with "the air intake and air filter box redesigned to improve breathing," says Juan.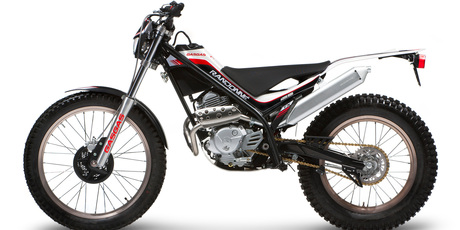 Reiger suspension makes adjustment easier, the footpegs on some models adjust lower to suit a taller rider, the bars are designed to work four ways - suffice it to say there's been a multitude of changes.
The bikes arrived just two days ago and the team's looking a little bug-eyed after 48 hours of prep, and trying to get a handle on it all.
That the developments have made a difference was confirmed by a former International Six Days competitor, who slid the EC 300 to a dust-spraying halt and said, "It feels noticeably lighter than its predecessor, the steering feels lighter, the motor's a lot more responsive - it feels like there's less inertia."
As for New Zealand, Gas Gas sales manager for this country Mike Ramsey plans to build the brand profile by playing to its strengths - primarily on the back of the enduro line-up given trials' low profile here, and the fact these road registerable bikes cross over to the "adventure" market.
That done he may consider the bigger-engined Randonne, an entry-level trail bike designed to beat Honda's CRF250L at its own game and draw riders into the brand.