Demand is expected to be high for the Macan, writes David Linklater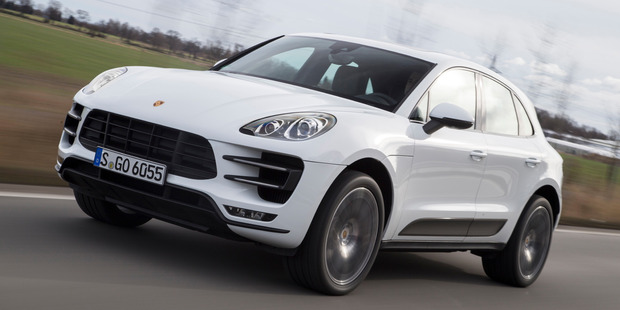 Michael Mauer, Porsche's head of design, had a difficult role to play in the international launch programme for the German maker's new Macan crossover.
Not just presenting to more than 400 journalists through the course of a three-week event, but also arguing to said media that this new sports utility vehicle (SUV) really does have a lot in common with his sports-car creations such as the 911 Coupe or 918 Spyder. Details such as the clamshell bonnet, the sloping roof (known as the "flyline") or even the design of the steering wheel.
It all seemed a bit forced. Surely SUVs don't need to be justified with reference to other genres: the premium-crossover market is huge and continues to grow steadily around the world, from 1.3 million sales last year to a projected 1.8 million by 2024.
More to the point, surely Porsche doesn't need to justify building a new SUV. True, Cayenne was controversial when it was launched over a decade ago; but it has been acclaimed for its abilities both on and off-road, not to mention generating huge sales (and profit) for its maker.
Porsche made more than 80,000 Cayennes last year: about twice the volume of 911, Boxster and Cayman put together. Little wonder that Porsche has now created a little brother for Cayenne, called Macan.
It was even called Cajun (Cayennejunior) while it was being developed, although the name was changed for production as Porsche did not want it to be seen as simply a watered-down version of the big fella.
The Macan name is derived from the Indonesian word for tiger and is supposed to suggest a character appropriate for a premium "urban SUV" (Porsche's phrase): a blend of sheer power with suppleness.
While the Cayenne platform was co-developed between Porsche and the Volkswagen Group from scratch, the Macan is based on the underpinnings of the Audi Q5.
However, Macan arguably contains more pure Porsche than Cayenne: two-thirds of its components are either unique to the car or substantially redesigned.
Macan will be launched in New Zealand in June, in three V6-engine variants. The $118,000 S diesel is powered by a 190kW/580Nm 3.0-litre unit, the $121,000 S gets a 250kW/460Nm 3.0-litre petrol and the range-topping $156,000 Macan Turbo features a 294kW/550Nm 3.6-litre petrol powerplant.
In fact, all Macan models are turbocharged, but it's just the flagship performance version that wears it as a model designation.
The Macan of choice for most early adopting Kiwi customers is the S diesel, accounting for nearly half of initial orders. That's the model we headed out in first, from launch central at Porsche's customer centre in Leipzig, Germany.
The 3-litre V6 turbo-diesel is the only engine in the range that's not a Porsche creation: it's the same powerplant you'll find in a Cayenne diesel and borrowed from Audi.
It does not sound like a diesel but it definitely has the pulling power of one: it has more torque than any other Macan and powers along in impressive fashion, with the help of a seven-speed PDK automated dual-clutch transmission.
The diesel-drive quickly established a dynamic character common to all Macan models. This is easily the most sporting car in its class, perhaps we should have expected no less.
There's a surreal combination of outstanding traction and steering precision, the product of a four-wheel drive system unique to Porsche and mixed tyres: wide at the back, a little narrower at the front. Which really is like a 911.
The two petrol engines have less torque but a highly distinctive aural character. The gurgling soundtrack is suggestive of the enhanced sound technology currently favoured by Audi. However, Porsche claims that the noise coming from Macan is 100 per cent real. In which case it's pretty impressive.
Max-attack performance and handling you probably expect from Porsche. But a comfortable ride? The Macan has that too, so maybe the name makes sense after all.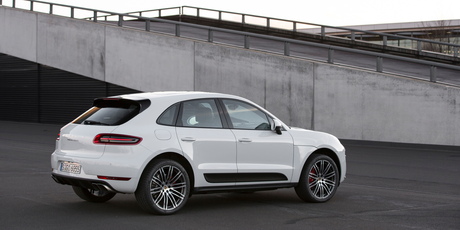 There are three separate chassis systems for the car, although New Zealand takes only two: our S versions are steel-sprung with an active-damping component courtesy of Porsche Active Suspension Management (PASM).
This has an impressive range but the air suspension (standard on Turbo, $3300 for the rest) takes things to the next level. It rides 15mm lower than the steel suspension, but still offered a noticeably more supple ride on our test route, a combination of country roads and motorway.
The air suspension also offers 40mm extra ride height (total 230mm) for off-road driving. Macan's four-wheel drive system is also Porsche-specific. It's predominantly rear-driven, although the system is capable of diverting 100 per cent of torque to the front axle if necessary.
As with the Cayenne, Porsche Torque Vectoring (PTV) Plus is also available. It increases cornering speed and stability by selectively braking individual rear wheels.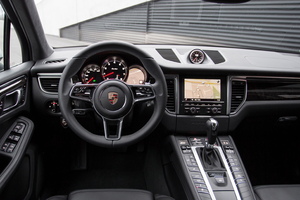 The cabin lacks the aggressive elegance of the exterior - but then that's very much the way with Porsche at the moment. It's fussy.
There are too many buttons and too much bling, but the quality is deeply impressive and it is very Porsche, right down to the centrally mounted tachometer and steering wheel design, which really is the same as the 918 supercar.
Key to the appeal of this compact-crossover is the fact that it's actually quite practical. Boot space is generous at 500 litres and you can have up to 1500 litres with the rear seats folded.
Will it sell? Will it what.
Production is capped at 50,000 units for the first year, so there are no plans for Macan to overtake Cayenne at the moment, which makes perfect sense when you consider that the large-car markets of America and China account for 60 per cent of Porsche production.
But in New Zealand it might be a different story.
Local importer European Motors Limited says it would not be surprised if Macan eventually became its number one.