Duncan is keen to make up lost ground, writes Andy McGechan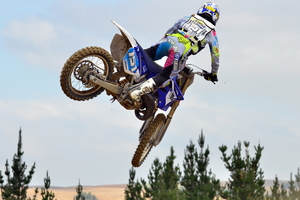 Watch out! Otago's Courtney Duncan is back on the race track and she's back to her old tricks, terrorising the elite young men of Kiwi motocross.
The just-turned 18-year-old multi-time former junior motocross champion from Palmerston, halfway between Oamaru and Dunedin, was sidelined with seven months after suffering concussion while racing in the United States last year.
She had not raced at all in New Zealand for exactly a year when she showed up at the opening round of the New Zealand Motocross Championships near Timaru just over a week ago.
She rolled her new Yamaha YZ125 to the starting grid for qualifying uncertain of her form, but determined to be competitive in this testosterone-fuelled hot-bed for New Zealand's rising stars of motocross.
But any questions about Duncan's championship potential were quickly answered as she qualified in the No1 position.
The day didn't work out quite as brilliantly as it had the last time she raced at the Pleasant Point circuit, which was at the opening round of the nationals last year - on that occasion she won the class before packing her bags for competition in the US - but she was still impressive this time around.
She shot into the lead at the start of the day's first 125cc race before eventually being bumped back to third spot, behind Hamilton's Josiah Natzke and Tauranga's Aaron Wiltshier.
But at least the "comeback nerves" had been banished and she knew she had the pace to win again.
Duncan again finished third in the next race, this time crossing the line behind Logan Blackburn of Te Puke and Natzke, and a podium finish for the day was looming large.
But then her day took a slight backwards step.
In the day's third and final 125cc race, she was again among the leaders and seemed to have wrapped up a podium finish overall, when she crashed and, although she recovered her bike and limped to the finish, she had to settle for fifth position at the chequered flag.
In the end, her 3-3-5 results at Timaru were good enough for an overall ranking of fourth and she is in a solid position as the riders regroup to do it all over again at round two in Tokoroa on Sunday.
The four-round series takes the riders to Pukekohe for round three on March 9, and to Taupo for the fourth and final round on March 22.
"It was not too bad and I felt comfortable being back on the bike," Duncan shrugged afterwards.
"I'll just have to accept what happened today and move on. I am only going to get stronger from here."
Duncan is looking forward to racing again on the sandy Tokoroa track.
She won there during the junior phase of her career, and she knows that it will be a good place for her to launch an attack.
She is only four points behind the third-ranked Wiltshier. Fellow Yamaha ace Blackburn heads the 125cc standings, one point clear of Natzke, with Wiltshier seven points further back.
Mount Maunganui's Cody Cooper leads the MX1 class ahead of Australian KTM rider Ford Dale, while Mangakino's Kayne Lamont heads the MX2 (250cc) class from defending champion Scotty Columb of Queenstown.
Sunday's racing in Tokoroa is sure to be sizzling across all three classes.