Team owner in confident mood, writes Eric Thompson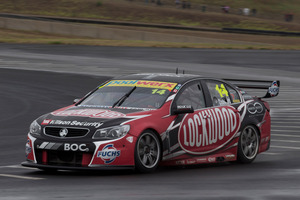 Although it doesn't seem long ago since we watched Jamie Whincup's inexorable march towards his fifth V8 Supercars' title, the pack were back in action shaking the cobwebs out last Saturday at Sydney Motorsport Park.
The opening round of the championship is at the Clipsal 500 in Adelaide from February 27 to March 2, and New Zealand driver Fabian Coulthard has the early bragging rights.
Coulthard made the best of the damp conditions to top the speed charts, setting a lap tap time of 1m 30.47s with Todd and Rick Kelly second and third respectively ahead of Craig Lowndes, James Courtney, Shane van Gisbergen, Jason Bright, Michael Caruso, Dale Wood and James Moffat.
It's been 23 years since a Kiwi driver held the Australian V8 crown in his hands and that was when Jim Richards won the last of his four championships. Van Gisbergen (5th), Coulthard (6th) and Scott McLaughlin (10th) all finished inside the top 10 last year and all are up to challenging Whincup and company for the 2014 title.
"We ticked a lot of boxes last year with race wins, pole positions and my best championship since I started my career so it's all been pretty good," Coulthard said.
"I think having the self-belief that we now have and knowing we can beat everyone on the same day helps with the psychological battle more than anything. I've won a few races now and that's something I really would like to make more common. We are ironing out a few weaknesses from last year which could put us more in the championship hunt this season."
Team owner Brad Jones is in a bullish mood heading into Adelaide and is also of a mind this could be a very good year for the team.
"I'm expecting another really good season this year and we're in pretty good shape having finished last year off in a good position," he said.
"Hopefully we can tidy the little problem areas we had last year and when things do go wrong they're not too bad and we'll be in the hunt for the championship this year.
"I feel one of my guys is in a position to finish inside the top three of the championship. It's about keeping the results ticking over. Fabian fits in very well with us and is happy, quick and confident. He's consistent, fast, great to work with and leaves nothing on the table.
"He's surrounded by people who believe in him and on his day he's unbeatable."
McLaughlin has traded in his Holden of last year for a Volvo and he and the team must be chuffed they got through 200 laps over the weekend with no major dramas.
"I think we set some pretty high standards by winning a few races in 2013, but at the end of the day we've gone to a new manufacturer and everyone is aware of what comes with that," McLaughlin said.
McLaughlin and a new teammate, Swede Robert Dahlgren, are confident they can do well in Adelaide.
In the meantime Polestar's head of engine development, Mattias Evensson, will be pulling the engines apart down to the last washer and cable tie to ensure the car is up to the demands of racing on a street circuit.