Formidable V8 driver says he's ready to rumble, writes Taylor Mosen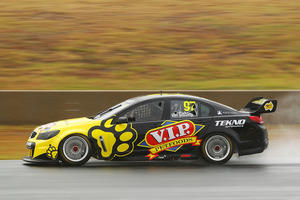 Righting a few mistakes from last season could see Kiwi motorsport hero Shane van Gisbergen on top of the V8 Supercars Championship this year.
The 24-year-old will soon embark on his second season with Holden-operated team Tekno Autosports, this time as the lone driver, and despite the recent dominance of the larger factory-backed teams, he insists his small unit is capable of winning the championship.
"Even though we've downsized to one car, having all the team's resources in the one basket, as well as getting increased support from the Triple Eight Race Engineering team, I think we've definitely got a shot at the championship," Van Gisbergen says.
"We've showed we can win races but I made a lot of mistakes last year, and also the team did too with pit strategy, so once we sort those out and learn from them I'm pretty sure we can take it to these guys all year.
"There's room to improve on everything, the full package really. We were weak at some of the open, fast and flowing tracks like Sydney so we need to work on that, but if we can go well in testing then I'm pretty confident the rest of the year will be good."
The Gold Coast-based Aucklander was content with finishing fifth overall in 2013, but his championship hopes have increased greatly in this his seventh full season in the "main game".
"I've been around long enough that I have to shoot for it now and I think fifth last year was good enough for the way things were, but with what we've laid down for this year I think we can shoot for the top," he said.
Van Gisbergen started last season in controversial circumstances after walking out of a three-year deal with Stone Brothers Racing, citing personal reasons, only to sign for Tekno Autosports just seven weeks later.
"Obviously we started last season with a lot of talk about what had gone on in the off-season but once we got going we started with a win, and had a pretty good season overall, I enjoyed it a lot," he said.
As well as his V8 Supercars commitments, Van Gisbergen is keeping busy behind the wheel in New Zealand and Australia, racing drift cars plus the occasional V8 endurance event; he will also continue to do some testing in a rally car.
"You've got to keep playing and keep driving," he says. "A few of the drivers here [in Sydney for testing] were complaining that they hadn't driven anything since the final round last year, whereas I've had three weeks off since September so for me this is probably the most race-fit I've ever been coming into a season."
Van Gisbergen will be joined by V8 veteran Fabian Coulthard and 20-year-old Scott McLaughlin, making up a three-pronged New Zealand contingent in the 25-strong V8 Supercars field.
The opening round of the V8 Supercars Championship will begin on February 27 at the Clipsal 500 in Adelaide.